5 Crucial Ways Your Content Impacts Customer Experience
More companies are evolving to be truly customer-centric. Their operations, messaging, and processes all seek to drive customer satisfaction and the best customer experience. Many things can influence this, including content marketing. Let's look at how content impacts customer experience and the opportunities it can bring.
Customer Experience Is a Priority
A recent survey of business leaders asked them what their top priority was in the next five years. Of pricing, product, and customer experience, the latter was the top choice with 45.9 percent.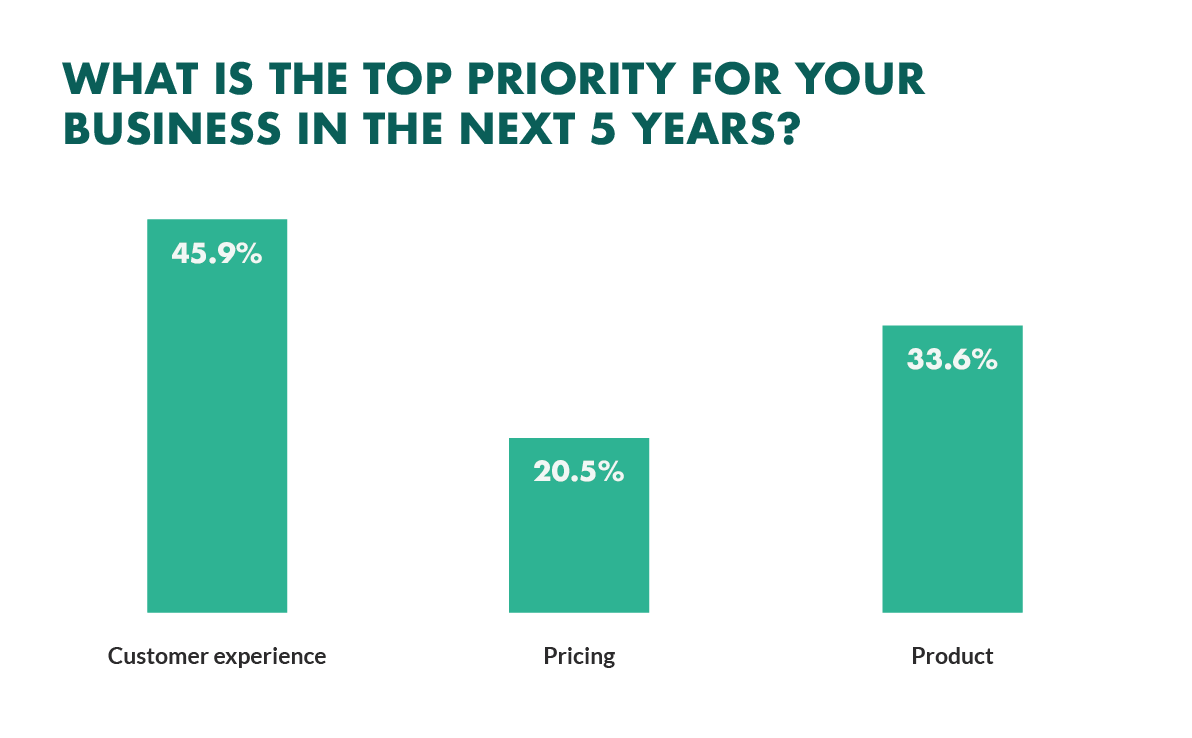 Image: SuperOffice
The reason? Because experience actually drives product and pricing. Customer experiences influence your product improvements. They also affect what price you can charge them. Leaders understand that without optimizing customer experiences, they can't grow revenue or innovate.
Content Marketing Is a Love Letter to Your Customers
Most enterprise content teams realize that the content they produce must be relevant, useful, and engaging for their audience. Otherwise, it's wasted words that won't drive conversions or build trust. In any type of content you produce, always keep the customer as the target and the star.
It's not about your brand — it's about their concerns, questions, and needs. When this is a constant in your content strategy, you can clearly see how it affects the customer experience.
If you're still navigating your way to customer-centricity in your content, there are multiple ways you ensure your content calendar reflects what they are seeking and supports a positive experience.
Make Your Content Relatable
Relatable content is important for any industry. It needs to be accessible and digestible by those consuming it. That requires several things:
Knowing your buyers really well by creating buyer personas that define their buying motivations, backed by data
Using language that sounds how they think
Leveraging real-world examples for others like customers in case studies, examples in blogs, or testimonial videos
How will you know if your content is resonating? By tracking content analytics around consumption. If you put out a video conversation with a customer talking about how your products solved their problems, look at metrics around watch time, sharing on social media, and if the content drove them to act on your CTA.
Ensure Your Content Has Takeaways
Content saturation is a problem for any industry. The goal is to be better than what's currently available. Unfortunately, a lot of content only grazes the surface and doesn't include anything helpful.
Every piece of content you create should have takeaways for the audience. Your content needs to have takeaways to provide better experiences for customers. It should point toward solutions, which can include your products, but think beyond self-promotion.
If a customer walks away from consuming your content and can use your product better or understand a concept with more clarity, it's a win for you and them. They'll have greater trust in you and consider you a reliable source.
Build Spaces for Two-Way Conversations
Content isn't a monologue. You don't just create something, distribute it out to the world, and move on. You want your content to elicit conversation. There are several ways you can realize this.
First, there's social media. You can post questions to customers to solicit their opinion. You should also respond to them when they comment, either answering a question or providing more information. Social media channels can also be a place to form groups, which can equate to lots of interaction.
Second, you can create communities through your owned media. Develop a customer forum to address challenges and talk through new features or updates to products. Customers can also interact with one another, which can help them adopt products faster and become advocates for your brand.
Be Honest and Transparent, Even If It's Not a Great Look
Every brand messes up. There's no way to avoid this, even for the most cautious companies. The question is, what will you do when this happens? Being honest and transparent works.
Time and time again, businesses get headlines for all the wrong reasons. When you mess up, why not fess up? Backpedaling and trying to throw blame is not what people want to hear. They expect businesses to be accountable and accept the responsibility.
If the issue goes public, either by way of a customer posting something on social media, or a journalist posting a critical article online, you likely need to move quickly as you will not be able to avoid the heat. The first step to rebuilding trust is identifying the problem and getting the public apology right.
There's even research on it regarding neurophysiology. In "Why Do People Believe Insincere Apologies?" researchers found when leaders identify the problem, address audiences directly, define how they'll remedy it, and minimize the harm done, there is physiologic arousal. Customers respond to these, whether they are true or not. So, this is a good framework, but be honest!
Lead with Empathy
Empathy in content marketing is becoming a substantial pillar. It's all about creating emotional connections with customers. This is far beyond Hallmark commercials that make people cry. Instead, you're telling stories that aren't abstract but based on real situations.
Content that has a narrative feel also uses certain language designed to bring on the feels. One specific way to do this is by using the second person. When you include "you," it's inclusive to the person reading it. As a result, they can believe it's their story and become more emotionally drawn to your brand.
You can also derive empathy through the imagery used, colors, and other visuals.
How Does Your Content Impact Customer Experience?
Are you intentional with content marketing and customer experience? It's certainly something to consider as you plan and proceed with production. Keeping these things in mind helps you stay customer-focused. When you do that with your content, you'll have more than customers. You'll have raving, loyal fans that respect and trust your company.
Want to learn more about the wonderful world of content marketing? Subscribe to the DivvyHQ blog, written by and for content marketers.