DivvyHQ vs. GatherContent: Comparing Content Marketing Platforms
With content teams relying heavily on technology to manage and automate their day-to-day workload, it's important to find the right set of tools, a.k.a. your content marketing tech stack.
Considering the complexities of the content process, savvy teams have come to realize the benefits of utilizing a specialized, content-centric platform for managing content planning, creation, publishing, and content performance reporting for the wide range of content and marketing channels they need to support.
Most competing platforms that we've included within our competitive analysis cover all these bases. There is one, however, that is a bit of an outlier. GatherContent's functionality serves a narrower use case that revolves around planning, collaboration, and development of website content. They're really more of a website content management (WCM) platform than a true content marketing platform.
Today's comparison between DivvyHQ vs. GatherContent will provide more details on this. We'll define how each solution stacks up in several categories, including:
Pricing
Content ideation features
Content and editorial planning capabilities
Workflow and collaboration offerings
Content production and asset storage features
Publishing functions and integrations
Content and team performance analytics
Service and support
Setup and implementation requirements
Security
Other factors
Comparison Methodology
How did we complete the comparison of DivvyHQ vs. GatherContent? Our staff dug into various resources, including company websites, free trials, knowledge bases, review sites, and additional sources. The full report and methodology is available here: Content Marketing Platforms: DivvyHQ vs. the Alternatives.
In deciding what features to spotlight, we included the tools and features that content, marketing and communications teams need to do their job. Consider the criteria to be similar to those used by analyst firms Gartner and Forrester for the annual reports they publish on content marketing platforms (CMPs).
While we did our best to gather all available information, but we certainly may have missed something. Not all platforms provide all details to the public.
If you're a staff member for GatherContent, and you see something we got wrong, leave us a comment. We'll fix it.
Now that we've defined the how, let's get started.
Enterprise Pricing
Price matters in any business purchase. Understanding cost can save you time if you find a solution is outside of your budget. Most platforms in the content marketing space have either per-seat pricing or unlimited seat pricing. DivvyHQ has both, depending on the team size. You can also invite non-users to view read-only access.
GatherContent's pricing structure also provides for unlimited users, but it has tiers of functionality. Thus, the pricing depends on the features you need and the number of "projects" you will manage. They define projects as things like a new website build, a website redesign, or a re-platforming of an existing website. Again, the use case is very different and this may not fit for teams that need to manage their day-to-day projects that are more micro, like individual blog posts, emails, or social posts.
Content Ideation
Ideation is a pivotal aspect of content marketing. Having features that support this is likely important to your team. With DivvyHQ, you get a central repository for ideas. You can also create and use request intake forms, allowing you to formalize your intake process company-wide.
GatherContent does not have any content ideation options.
Content and Editorial Planning Capabilities
Content marketing includes a lot of planning. The central piece of this effort is a content calendar. It becomes a 360-degree view of all ongoing content initiatives.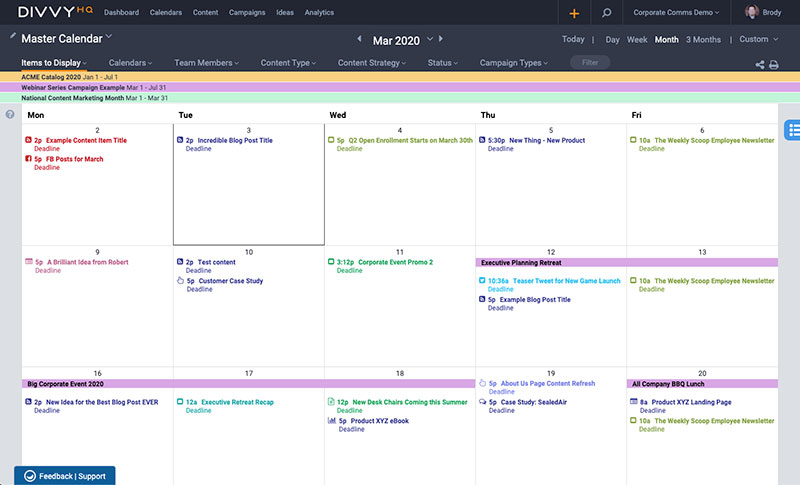 DivvyHQ and GatherContent both include dynamic content calendars, which give individual users the ability to see the various projects and deadlines on their plates. Considering the features included in the comparison, both platforms share many features:
Drag and drop entries (i.e., projects, tasks, etc.).
Content metadata management (allows for filtering and reporting of data)
Project and task prioritization
Duplication of items/projects
Multiple views (list, calendar, etc.)
Color-coding
DivvyHQ does have several features that GatherContent does not. For instance, content calendar views can be created and shared with non-users. Divvy's calendar has much more robust filtering capabilities, and flexible architectures that allow different calendars for multiple locations, brands, or other segments.
The systems both have campaign planning and management. Neither have resource management functionality.
Workflow and Collaboration Offerings
Content marketing software streamlines content workflows and collaboration for your team. With these features, you can introduce more accountability, consistency and automation into your process. In this category, the solutions have most of the same functionality, including:
Task management
Custom workflow builders
Automated workflow scheduling, notifications, and reminders
Commenting with @mentions in content to tag users
DivvyHQ also has real-time browser notifications to alert users when new comments have been added to their content items.
Content Production and Asset Storage Features
Production and asset storage are critical to workflows and management. DivvyHQ and GatherContent both have:
Content archive and auditing
Unlimited storage for content and assets
Asset library
HTML content editor
Change tracking and version history
A key difference in this category is DivvyHQ's social content planning, drafting and scheduling capabilities. GatherContent doesn't provide anything for social content management.
Publishing Functions and Integrations
Integrations make your tech stack run smooth, saving you time and resources. Below, you can review the available integrations for both platforms. Of note here, with GatherContent's focus on helping teams produce content for websites, they've placed a larger focus on native integrations with popular CMS platforms.
DivvyHQ Integrations
WordPress
Zapier
Google Drive
Dropbox
Microsoft OneDrive
SharePoint
Box
EPiServer
Kentico
Microsoft Outlook calendar
Google calendar
iCal
GatherContent Integrations
Microsoft Word
Microsoft Outlook calendar
Google calendar
Both platforms offer open APIs, which makes custom and future integrations much easier.
Content and Team Performance Analytics
Content analytics are critical to tracking the performance of your content and your team. DivvyHQ delivers on this requirement. The platform can aggregate data from more than 100 data sources to one dashboard. You can also pull reports on internal production and use time tracking.
GatherContent does not offer any analytics tools.
Service and Support
The next category is all about life after deployment. Will you be able to get service and support when you need it? For DivvyHQ users, they receive:
Live onboarding teams
Content strategy review and recommendations
Dedicated support teams
Analytics analysis and recommendations
Online support chat
GatherContent only provides a live onboarding team and online support chat.
Setup and Implementation Ease
Every company wants easy setup and implementation for new software. DivvyHQ can be ready in less than four hours and doesn't require special coding. GatherContent requires a much more involved implementation process, and some programming may be necessary if integrating with your CMS.
Security
Security is critical for any application you use. DivvyHQ and GatherContent are serious about security, offering:
Robust user permissions and rules
SSO (single sign-on)
Two-factor authentication
Everything Else
What else do you get with DivvyHQ and GatherContent? Neither will require a full-time employee to manage it. They are also both mobile-friendly.
DivvyHQ vs. GatherContent: What's Right for You?
GatherContent has many appealing features for teams or agencies who are regularly involved in building websites and developing the necessary content for each site. Their pricing is reasonable, but may get more costly as the number of projects scales.
Your decision will likely come down to use case. If you're looking for more of a traditional content marketing platform that facilitates the management of a multichannel content operation, then DivvyHQ includes almost every function you'll need. Our flexible pricing also means it's likely more budget-friendly. You can see how it works today by starting a free trial.