The marketing automation software industry is booming and is expected to grow by over 19 percent in the next five years to hit $14.15 billion by 2024.* The reason for this is simple. Automating marketing tasks can save time and money and improve the effectiveness of campaigns.
Automation tools have come a long way since the first email autoresponders. It's now possible to automate tasks at every stage of your campaign, from initial competitor research and content creation through to optimization and final analysis.
If you've not yet fully embraced automation in your marketing strategy, the time is now. Today's marketing automation software is incredibly sophisticated and yet highly cost-effective. Whatever investment you make into automation tools and platforms will be recouped quickly in the form of increased efficiency and improved campaign ROI.
Content Creation
If you think of automated content as nothing more than the nonsensical content produced by article "spinners" in an attempt to manipulate Google's algorithm, you'll be shocked to see what today's content automation software can do.
The AI industry has made huge leaps in the last decade, and one area where this is really obvious is content creation. News publishers have already been using automated content creation tools for several years. For example, the Washington Post uses AI technology to write short reports and social media updates on sporting events.
To get an idea of just how sophisticated AI-powered content generators have become, just look at the example of GT2. This AI model is so effective at writing "fake news" that OpenAI, the nonprofit that created it, was forced to withdraw it from public use for fear that it would be misused.
However, most marketers won't want to automate the entirety of their content production. But, automated tools can be very helpful to post social media updates, short news alerts, and other small snippets of content.
Content automation tools can also assist in the content creation process by recommending topics to write about and keywords to include. Some content creation tools will even create an entire article outline complete with subheadings, which you can then pass directly onto a writer for production.
One other area where AI can be as good, if not better, than human writers is creating headlines. AI-powered tools can generate a headline based on your content, optimized to catch the attention of your audience.
Content Curation
While AI will likely never fully take over for humans when it comes to content creation, content curation is definitely one task that you can turn over to the machines.
Content curation is essential for maintaining your presence on social media, but it can be incredibly time-consuming to find enough high-quality and relevant content to fill your feeds.
Content discovery tools can scour the web for content related to specific keywords and rank it based on social shares, likes, comments, and other criteria. You can then select the best content to post to your feed from the suggested selection.
Content Distribution and Scheduling
If you understandably don't want to give up any of the important task of content creation to a machine, you can still benefit from content automation.
Content automation platforms can streamline your workflow and save you hours of time by allowing you to queue up and schedule your social media post and other content in advance, posting it automatically at a pre-selected date and time.
Content scheduling tools can also assist you with selecting the best times to post for optimal engagement and even find new channels for you to distribute your content.
Content analytics is an important part of these automation tools as it enables you to track the performance of your content across different channels and optimize your distribution process as you go along.
Lead Nurturing
Automation tools have existed for mail marketing and lead nurturing for a long time. As email tends to be used for marketing on a large scale, and a single campaign may be sent out to tens of thousands of people, it's simply not practical to handle this manually.
At its simplest level, automation software can be used to automatically send out an email to a new lead when they sign up to your list. But, there's a whole lot more you can do with automating your lead nurturing process.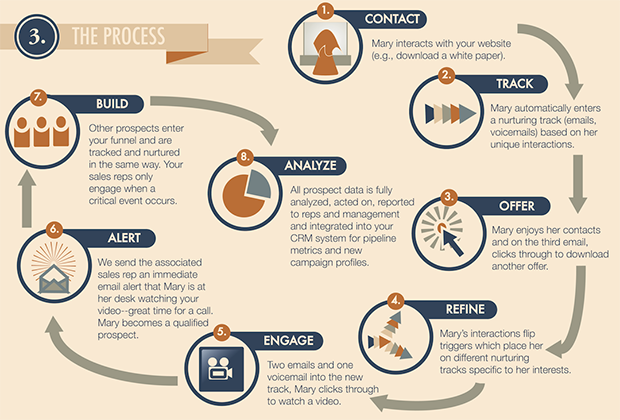 You can drip feed a series of emails over time to build a relationship from initial contact to an avid subscriber. You can also trigger emails based on actions such as opening an email or clicking a link.
By setting up different triggers, you can create unique customer journeys, personalized to each individual and optimized for conversions. And, once you've done the work to set this up, you don't need to lift a finger as everything is automated.
A/B Testing and Optimization
Do you have two potential headlines for your article, and you're not sure which one is more effective? Or, maybe you want to experiment with different images on your social media posts to see which one gets the highest click-through rate.
Split A/B testing is the traditional way to measure the effectiveness of two different versions of a single piece of content, but it can be very time-consuming when done manually and can quickly become complicated if you're experimenting with more than one variable.
Automated testing and optimization tools take the hard work out of optimizing your content and marketing campaigns. With AI-powered tools, you can even experiment with thousands of iterations of a single landing page or piece of content, and the software will intelligently optimize it with each individual who visits the page.
Building an Automated Content Strategy
There are many automation tools and possibilities available to you, but you don't have to use them all. If you want to streamline your workflow and boost the ROI of your content marketing efforts, start by identifying time-consuming and repetitive tasks that you can turn over to automation software.
For most marketers, automating social media posts is a quick and easy win that can save hours of work each week.
You can also look at other areas of your content strategy where there's room for improvement, and consider experimenting with automation tools to see if they can help out. For example, maybe you know your content is good, but it's not reaching as many people as you would like. An automation platform can help to optimize your distribution plan and schedule so that you can reach a wider audience.
See how your results compare after trying out each tool, so you can figure out what is working for you. Most content marketing platforms give you the option of trying out their software for a limited time, so you'll know if it's going to work for you before you commit to investing in a particular automation solution.
To find out more about how DivvyHQ can help you to plan your content and automate your workflow, sign up for a free trial today.
* source: https://www.researchandmarkets.com/reports/4591293/marketing-automation-software-market-growth