Two words can strike fear in the hearts of content marketing and comms teams worldwide: Google update. It can seem that as soon as you get the hang of the last major update, Google changes its algorithm yet again.
Getting organic traffic from search engines is hard enough without constant updates. According to an Ahrefs study, nearly 91% of websites can't get a foothold in Google's results pages. Ouch.
However, algorithm updates are the search engine giant's way of weeding out the content users want from what they don't. At the end of 2022, it rolled out the helpful content update, which aims to provide people with content written by and for humans. Let's look at how you can stay on the panda's good side.
What You Need To Know About Google's Helpful Content Update
With this update, the company aims to put the kibosh on content creators producing for search engine optimization, not people. Google's survival depends on its reliability in providing users with results that match their search intent.
As soon as people feel like a Google search doesn't give them what they're looking for, they'll start looking to other search engines (Google isn't the only one out there: Bing passed the 100-million-daily-users mark in 2023). This algorithm update is an effort to ensure the company keeps its firm grip on the market.
Unlike other updates, this one may not be one to fear as much as others. The system rewards websites for providing valuable, well-written, original content. It isn't a complete overhaul, but rather a system enhancement.
How the Helpful Content Update Works
The changes Google made to the system with this update are folded into the algorithm, adding another element to the search engine's ranking system. The company's spiders seek out content containing unhelpful information and mark such a site in the system, indicating its low value and making it far less likely to perform well in search results.
The system doesn't just ding specific assets. It also takes aim at entire websites. If other sites produce content that provides users with a more positive experience, sites with less useful content are not likely to rank high and may get buried under pages and pages of results.
What You Can Do To Perform Better Under the Helpful Content System
While the update isn't earth-shattering, you can take steps to ensure you benefit from the changes. The good news is that there isn't much mystery or magic to staying on the good side of the helpful content update.
The tricky part is that many previous shortcuts to moving up the ranks aren't likely to work anymore. Here are seven things you can do to maintain or improve content performance under this system.
1. Know Your Audience
Knowing your audience well is critical. The more information you have about them, the better, including:
Content format and social media preferences
Interests (particularly those relevant to your brand)
Pain points
Platform use habits
If you understand your target audience, you can craft content tailored to their needs, interests, and preferences. Segmenting your audience allows you to create more nuanced content that attracts prospects with specific characteristics.
2. Write People-Focused Content
Write for people, not search engines. Keep in mind that it is people who consume your content, and they want to know that you write for them.
The helpful content update rewards sites with information that answers their questions, addresses an issue, solves a problem, or engages their interests. Convey your humanity by demonstrating empathy, understanding, and other relevant, on-brand emotions and personality.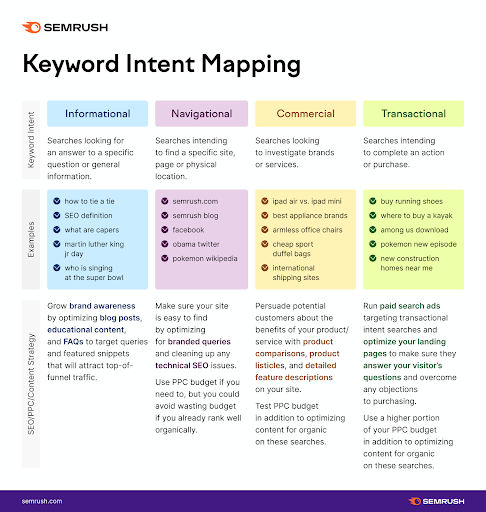 Source: SEMRush
3. Avoid Wholly AI-Generated or Automated Content
With the rise of AI-generated and automated content, many brands have started relying on artificial intelligence to craft content. While Google has nothing against AI per se (the company uses machine learning to scour the internet for unhelpful versus helpful content!), it considers wholly AI-generated content equal to spam.
We think artificial intelligence in content production has its uses, but it can't replace humans. Google agrees.
Source: Capterra
4. Write What You Know
With the helpful content update, the bots are trained to pick up on content that demonstrates expertise on the subject matter. Websites or articles that are sparse on the details, only imitate what others write, or provide inaccurate information won't perform as well.
A key to ranking with this system upgrade is to provide content demonstrating your brand's first-hand experiences with the topics you cover. When you craft content, think about what value you can add that others can't.
5. Stick to the Topic
Your content should stick to the topic at hand. Your audience should understand the focus of each asset. Likewise, you don't want to produce content that covers a disparate range of subjects.
When you create your content strategy, consider topics relevant to your brand, the target customer persona, and where your audience is on their buyer's journey when they come across your content.
6. Maintain Good Form
Consider your viewer's overall experience. Google's goal with this helpful content update is to show users results that will leave them satisfied after clicking on a link.
The information you provide is important, but so is the content form. Writing should be readable, with correct grammar, spelling, and punctuation, and a structure that flows and is easy to understand.
7. Remove or Update Unhelpful Content
Google's bots are always on. They actively search the internet for useful content. If you have assets that aren't performing, remove or update them. Otherwise, it will weigh you down, impacting the performance of other assets.
Performing regular content audits can help with this, and our content audit template makes the task easier. You can update and repurpose underperforming assets that can still provide real value but remove those without promise.
How To Stay Organized for the Helpful Content Update
Consistently providing high-value content is no easy task. However, if you want to stay on the good side of Google's helpful content update, that's precisely what you need to do. Divvy's got your back. Our content operations platform gives your team a central hub with the tools they need to plan, collaborate, create, and analyze, keeping everyone organized and on the same page. Request a demo to see how we simplify content operations.