Although lockdowns from the pandemic are a thing of the past, it's likely that some members of your remote marketing team still crave the comfort of working from home. If they're some of your most productive creatives, you don't want to lose them.
Then, if you're a global corporation, your marketing operations usually include teams stationed all over the world. Your marketing strategy needs to work these teams into the whole equation.
Or, you might need to work with trusted freelancers or outsource some of your content production to a content marketing agency. Often, these people, too, work in home offices or their agency offices.
In all these situations, content collaboration must take place remotely. But can you do marketing as usual with your remote teams?
The answer is a resounding "Yes!" Here's how.
Be Available to Your Remote Teams
When you use a content marketing platform that enables all your teams to ideate, collaborate, create, review, and publish in one central hub, communication with your teams halfway across the world is only a click away. Make yourself – or another person in a leadership position – available to them to answer their questions.
Give Them the Tools They Need to Succeed
Don't kneecap your remote teams by keeping company resources from them. Give them access to all the tools and platforms they need to complete their work.
Whether that's a documented content workflow, your brand guidelines, or the same grammar checker your in-house teams use, you'll find that giving them access to these resources will boost their productivity. Integrate all the resources they need into your content platform, and they won't have to shuffle back and forth from platform to platform to perform their tasks.
Having a dedicated ideation space that lives on your content platform can help drive collaboration among your creatives. Seeing what others are working on can spark others to come up with innovative ideas for their own work.
Remote workers, as Jonathan Hill points out, usually boost their productivity by anywhere from 35% to 40%. Providing them with every tool they need will likely rocket their production even beyond these numbers.
Provide Your Remote Teams with Training and Guidance
Be sure to equip remote teams with everything they need to hit the ground running. Teach them about your brand – its products, its unique voice, and its key differentiators. Give them a chance to get to know your target customers through engaging customer personas.
Assign a mentor to new employees. These mentors should be your top performers in their respective fields — whether they're writers, designers, videographers, or SEO experts. Invest in your remote teams' success, and they'll be more likely to turn their potential into productivity.
Make sure that your briefs and workflows have all the details and instructions they need to complete projects successfully. Be available to them if they have questions.
Give Them Control over Their Schedules
We get it. Deadlines are critical to your success. However, so long as your teams complete their work on time, don't expect remote teams to adhere to your office's strict 9-to-5 schedule.
Instead, give them the flexibility to work when they are at their best. You'll get more focus and creativity, and they'll be happier — and be more likely to stay with your company.
Since replacing even one employee can drain your marketing budget, keeping your remote teams satisfied on the job will save you money in the long run. The costs of recruiting, hiring, and onboarding a replacement will likely cost your department more than 50% of their annual salary.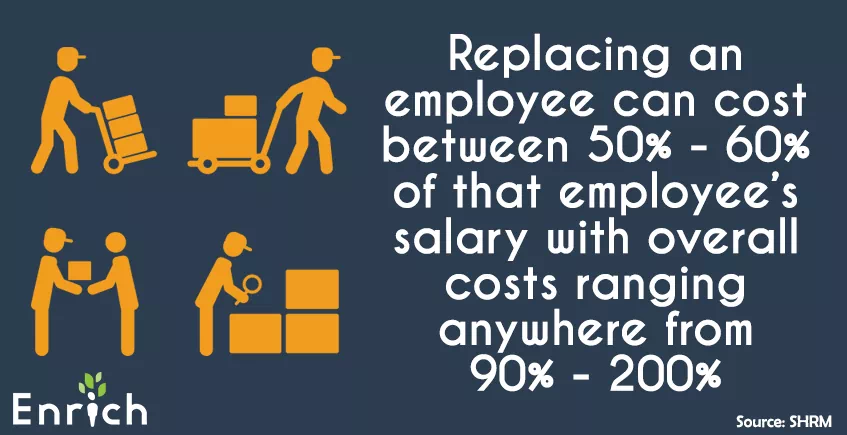 Image via Enrich
Use Virtual Private Networks to Maintain Security
If your remote workers don't have dedicated, secure devices that they use only for work, consider providing them with access to a virtual private network (VPN). These tools encrypt your teams' work, protecting sensitive data from prying eyes.
Encourage Socializing During Breaks
Although there's no actual watercooler to gossip around, your teams can still build relationships with each other virtually. With a content platform with in-platform chat capabilities, Zoom meetings, and Google Meet, you have everything you need to communicate with each other about both work-related and personal situations.
Whether it's Zoom holiday parties, conversations about family and friends, or celebrating the arrival of a new child, encourage your teams to form off-hours relationships. Those bonds can help build the kind of team spirit you need to push a grueling campaign over the finish line.
And, if you happen to have remote employees who live near each other, encourage them to meet in person. There's nothing like real-life connections to build on-the-job camaraderie.
Make It Easy for Direct Reports to Interact with Leadership
In a brick-and-mortar office, direct reports can usually just drop by their boss' office to pose questions or chat about issues that might affect their work — and vice-versa. Provide your teams with plenty of ways to touch base with each other, as Chief Executive's Kellie Walenciak advises.
Be sensitive to how your direct reports prefer to communicate. If, for example, you know that your top copywriter hates phone calls but loves to read, Zoom calls might prove uncomfortable. Opt for chats inside your content platform's collaboration feature instead.
On the other hand, your junior graphic designer and head videographer might prefer a more visual medium (but don't assume they do simply because of their job title). If so, then video calls would likely be your best option.
Most importantly, as Walenciak advises, communicate often. Her broad experience in leading remote teams has shown her that it pays to "give [employees] more direction than you would in the office."
Additionally, be open to your direct reports' feedback. Ask questions, and encourage suggestions. You hired them for their expertise — so listen to their advice.
Finally, develop your capacity for empathy. It's a marketing leader's secret sauce for success, as Marketing Insider Group CEO Michael Brenner points out.
Use a Dynamic Content Calendar to Keep Everyone Informed
Enter the dynamic content calendar. It's the perfect complement to Walenciak's advice.
When you use a dynamic calendar, changes in deadlines, project milestones, or campaign direction appear immediately, informing everyone in real time. And, when you extend your calendar's visibility to all stakeholders, it ensures that everyone's on the same page — literally.
With DivvyHQ's content operations platform, you'll never have to worry about changing deadlines or direction. Created for content planning across the enterprise, you'll be able to stagger editing and approvals across time zones, account for updates and changes, and manage large, multi-channel initiatives with aplomb.
And, with its capacity for metadata management, your teams will never struggle to find complementary content assets that can help the audience get a deeper understanding of each topic. Its dedicated ideation space will spark creativity throughout your teams, no matter where they are in the world.
Best of all, you don't have to take our word for it. You can try it free for 14 days with no obligation. Start your free DivvyHQ trial today!