The primary objective of content marketing is delivering relevant content to a defined target audience. Personalized content takes this one step further. It's the fuel for elevating the experience to generate lasting connections. When customers feel that you are speaking directly to their needs and challenges, it forms the bonds of a relationship. Just like in any personal relationship, people become more invested when they believe that the connection is authentic. But what does personalization mean in modern marketing? And why does it matter?
Personalized Content: What Is It?
Content personalization describes the delivery of a specific piece of content to a defined visitor based on a set of criteria. Some also refer to it as dynamic content because it updates in real time to deliver a unique user experience.
You can find personalized content in a variety of formats and channels. It got its start in email marketing but has evolved since because of the capabilities of marketing technology. As you track users and know more about them, you can then set up personalized content experiences that create an opportunity for greater conversions.
Everybody wants in on the personalization game. In fact, 88 percent of marketers who use it said they saw a discernible lift, with 53 percent realizing a lift of over 10 percent. It's hard to pass up such a valuable chance to improve conversions.
However, personalization isn't always easy to execute. It depends on some core elements, including having a bank of data to guide segmentation, and a content strategy that considers it and finding ways to weave it into your workflows. But let's start first with how content personalization has evolved.
Personalization Has Expanded Beyond FNAME
Marketers have been using personalization in email communications for some time. The tag of FNAME at the beginning of the message is personalization in its original form. And it works. Emails that use first names increase open rates by 2.6 percent.
It's a proven strategy that's easy to scale and doesn't require you to have a deep data profile on each customer. The new age of personalization uses complex data streams to develop profiles to segment more precisely and execute dynamic content campaigns.
The new horizon of marketing personalization presents many opportunities for brands to increase conversion rates. However, it's not an easy proposition. It requires good data at its foundation.
Why Good Data Matters in Personalization
If you want to make personalization a priority, then you have to know your customers. And, you'll only be able to do that with good data. The more relevant and accurate data you collect on their interactions with your brand, the more you can refine your messages to them. So, what do you want to know about them?
It all starts with the first interaction. Let's say you're an ecommerce brand and offer a discount off the first purchase if a customer creates a profile. You can then ask them specific information about their buying interests, as well as demographics. They may be willing to share their preferences, which means they are personalizing their own experiences.
It's something to build off of. Plus, with the help of cookies, you can now track their interactions. You can learn more about them as the relationship continues, including key information such as:
Location/IP address
Source of entry (social, organic search, PPC, etc.)
Previous searches and history
Purchase patterns (what they buy, when they buy it, and how they buy it)
Demographics (information they've provided like gender, interests, education, income, etc.)
You've Got the Data, Now What?
With your data in hand, you can begin to insert content personalization into your content planning and digital execution. There are three ways to execute on personalization: segmenting, history, and trend analysis. Let's shift to how to incorporate these personalization tactics in your content strategy.
Segmentation Personalization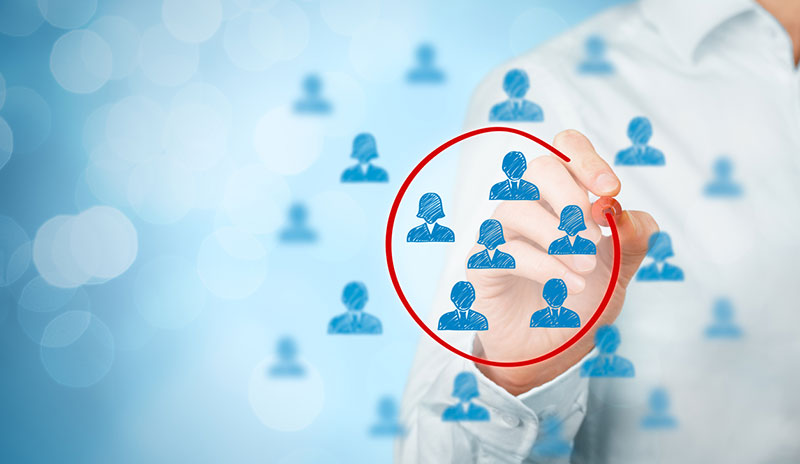 First, you already know more about your customers when they land on your site before you've begun to develop their profile. For example, you can use geotargeting. Many websites do this extremely well. Any time you visit a brand like Lowe's or Home Depot, they take your IP address and show you the closest store and how late it's open. Global ecommerce sites like IKEA also take into consideration your location and directs you to the website of your country with the correct language.
That's pretty basic audience segmentation personalization, but it's effective. It works because your website visitors don't have to spend extra time to get to the right place or find the nearest location.
New vs. Returning Customers
Cookies also provide you information like knowing if the customer is new or returning. If the site registers you as a new visitor, then a pop-up welcome message may appear with a promotion offer. If the site acknowledges you as a returning visitor, then the content would be different and be influenced by your previous interactions.
Referral Sources Say Different Things About Buyers
Another way to segment is based on the referral of traffic. Visitors can land on your site from different channels, and this may allow you to draw some assumptions. If they clicked on an email coupon, then they may be more price-conscious so you can route them to a page of sale items.
If a customer clicks through to your website from Pinterest or Instagram, you can hypothesize that they are very visual when it comes to shopping online. Based on this information, you may also posit that this segment might be more motivated to purchase based on peer or influencer recommendations. You can then customize where they land on your site to accentuate this.
People coming from different sources also imply they have different mindsets. If someone clicks on your PPC ad, then they are much further down the funnel and ready to buy what they need. The landing page you take them to then needs to direct them immediately toward a conversion of completing a form or making a purchase.
Device Type Also Matters in Segmentation
Your customers probably use a variety of devices to peruse your site, but a mobile viewer often has different expectations than someone on desktop. Someone searching for something like hotels on a mobile site may be looking to book immediately. By contrast, someone on a desktop may just be researching.
For example, InterContinental Hotels Group (IHG) added the click-to-call button to their search ad and increased mobile traffic by 20 percent. They realized that their mobile visitor was ready to take action and made it convenient for them to connect.
Getting inside your customer's brain and taking things to a personal level makes any customer feel that you get them, increasing your chance of conversions.
Previous History Personalization
In this approach to personalization, you have established a relationship with the customer. You have a detailed timeline of all their past activity, even if they've yet to make a purchase. You have a long data trail; now, it's time to use it to personalize their experience.
Amazon is the pioneer of this type of personalization, providing users a list of previously viewed items, as well as making relevant recommendations based on history. Some people even say Amazon knows what they want before they do.
Showcasing previous view history and recommendations are two basic ways to personalize, giving them a nudge to remember what they last looked at or what they may need to complement a previous purchase. It's not exactly unexpected to see a product recommendation for light bulbs if you just bought a new light fixture.
Personalization via Patterns
Remember that stack of data you've been collecting on customer history? It's time to turn it into a powerful tool to boost conversions. The key is to use that data to build a better recommendation engine. Why? Because relevant recommendations work. According to a study that looked at 1.5 billion shopping sessions, personalized recommendations accounted for 11.5 percent of revenue from ecommerce sites.
To have this kind of revenue lift, you need to leverage advanced technology tools like artificial intelligence and master data management to dive into the analytics and spot patterns and trends. You can begin to answer questions like:
What's the return rate of customers based on what they buy?
What products or solutions are often purchased together?
Are customers influenced by the shopping patterns of others? (i.e., showcasing popular items that others have purchased)
Do external factors affect buying patterns? (i.e., seasonal, economic fluctuations, or industry changes)
When you start to connect the data and reveal the answers to these questions, you can speak to your customer in a completely new way that builds trust. And when customers trust you, they'll remain loyal, which correlates to higher profits. According to a study from Adobe, 40 percent of online revenue comes from returning customers!
Personalization Is King When It Comes to Conversions
Content was once called "king," but in today's modern, digital world, it's more about it being the right content. Personalization is one of the single most important initiatives you can invest in to see real returns. The more targeted and specific your message, the more likely they are to convert and remain a loyal customer.
Do you have a strategy for personalization in 2020? Let us know what you're doing to personalize your content experiences in the comments. Should you need help executing your plans, we'd love to chat. Schedule a quick DivvyHQ demo today!