For content marketing teams in larger companies, here's one New Year's resolution that's not too late to make: shedding the silos. It's a must for closing sales. To create compelling content for sales enablement, it's essential to collaborate with your sales teams.
Otherwise, content creation all too often results in a case of your right hand (your content team) not knowing what your left hand (your sales team) is doing. When that happens, your prospects get mixed messages – a death knell for closing a sale.
After all, who wants to do business with a company that can't even get internal messaging right?
Instead, ditch those silos and implement a next-gen content strategy that closes sales.
Start with Content Collaboration
To earn your prospects' trust, you need to create content that solves their problems or teaches them something they can do to improve their businesses or lives. But first, you need to learn what situations they face so that you can deliver the content they need.
Your sales team deals with your prospects every day of the week. They hear all the objections – all the questions – prospects raise. But potential buyers won't take your sales team's word for it. They want to see the proof behind the claims.
That's where content collaboration comes in. Meet with your sales teams to find out what problems they face. Then, partnering with your subject matter experts who work directly with your products and services, create content that helps your prospects solve the problems that keep them up at night.
A good night's sleep, it turns out, goes a long way toward closing a sale. Give your prospects the knowledge that fixes their problems, and they'll be loyal customers for a lifetime.
Use Competitor Analysis to Educate Your Sales Teams
Content collaboration goes both ways, as the Digital Marketing Institute points out. Your content teams can gather information about your company's competitors, giving your sales teams the latest insights on what their competitors are doing.
Detailed, easy-to-read reports on your competitors' strengths, weaknesses, and the truth or falsehood of their claims can help your sales teams understand what your prospects face in meetings with your competitors' sales representatives. Armed with that information, your salesforce can shore up their own presentations to cover those areas.
Use Problem- and Industry-Specific Case Studies to Increase Relevancy
Your prospects are busy people. They aren't going to appreciate a slew of irrelevant content pouring into their inboxes every day.
Instead, send them content that deals with the specific problems they face. Dividing your prospects by industry and pain points allows you to segment your email list. It'll take some research, but it's well worth the goodwill you'll generate by sending them personalized content they love.
With an efficient content automation solution, the process will be seamless once your segmentation is complete. As your prospects move down the sales funnel, include industry-and problem-specific case studies that mirror the problems they face.
Seeing how people who experience situations similar to those your prospects face allows them to vicariously experience the same success your case studies document. When they can visualize themselves solving their own problems with your company's products and services, it'll be easier for your sales teams to close.
Have Long-Form Content at the Ready
As a major prospect nears decision time, they will likely have to deal with multiple decision-makers to sign off on the purchase, particularly if your product is a costly one.
It pays to have detailed content available that addresses each decision-maker's specific concerns. For example, your prospect's legal leadership will want to look at safety records and liability issues, while the head engineer will want to see the science behind how your product works.
Well-researched ebooks and white papers tailored to each industry and each decision-maker can make the difference between a sale and hours of wasted time.
As your company introduces new products or upgrades its current offerings, that's the time to create or upgrade these long-form content pieces. Stay on top of these key sales enablement tools so that your sales teams can provide their prospects with up-to-date information, which they can refer to during meetings with the buyer's leadership teams.
Create Explainer, How-To, and Success Story Videos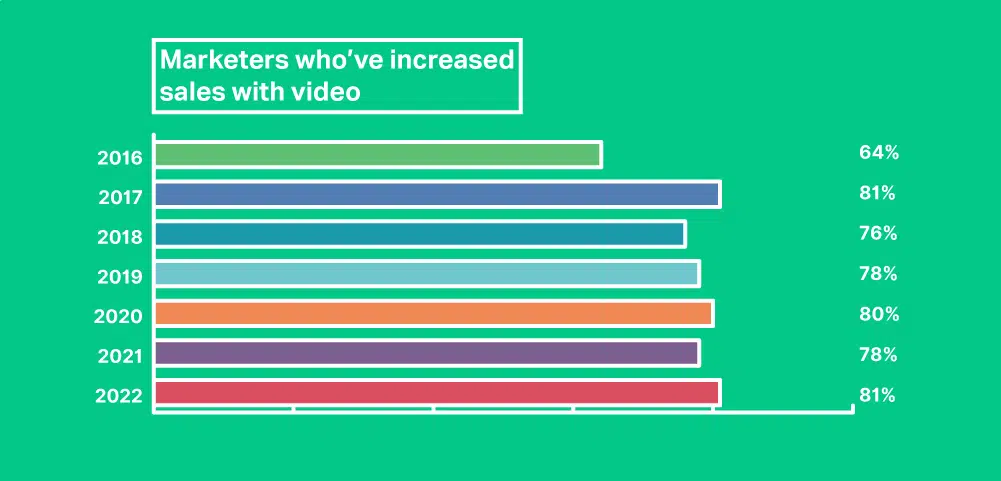 Image via Wyzowl
According to a December 2021 Wyzowl study, 81% of marketers report that using videos in their marketing campaigns increases sales.
It's no wonder. The same study revealed that 96% of consumers watch explainer videos to learn about a product. Additionally, 88% of those consumers say that the brand's video convinced them to purchase its product.
Explainer videos – where you demonstrate how your product works – are only the beginning. Other types of videos are equally effective for clinching a sale.
How-To Videos
Your prospects will want to know how easy it is to use your product before they buy it. How-to videos are an excellent way to demonstrate your product's ease of use.
Bonus points if your video links to an easy-to-follow set of directions customers can follow after their purchase. Your customer support team will be a valuable source of information about common problems new customers face in using your product. Troubleshoot before they call to complain, and they'll thank you with repeat business and referrals.
Customer Success Videos
Like written case studies, customer success videos tell the story of how your customers used your product to enjoy better lives or more productive businesses. Back up your claims with facts, but don't forget to inject a healthy dose of emotion.
Image via Neuromarketing
Research shows that messages that use a heavy dose of emotion perform nearly twice as well as purely rational ones. Emotional messaging connects even better with B2B audiences, as iResearch Services' Yogesh Shah points out.
That goes double if that emotion is empathy – empathy for your prospects as they try to conquer their challenges. When you focus on meeting their needs all along their buyer's journey, it won't take a slick sales spiel to hook them as customers. They'll jump at the chance to buy.
Finally, Nurture Your Prospects on Social Media
Social media shouldn't be a space for bragging about your brand's latest accomplishments. Above all, your brand needs to use social media to converse with its audience.
Use social media listening tools to find out what people are saying about and to your brand. Then, respond to their questions and feedback with empathy, knowledge, and a willingness to help.
On every channel, at every stage of the journey, your sales enablement content must reach out to your prospects if you want to help your brand meet – and exceed – its sales goals. To streamline this complex process, you need a content marketing platform that can automate all the busywork, from collaboration to analytics and everything in between.
That platform is DivvyHQ – the central hub for successful enterprise content marketing teams. Simplify your day and enjoy more time to create amazing sales enablement content with DivvyHQ. Try it free for 14 days – starting today!