In 2021, the daily global digital footprint was 2.5 quintillion bytes of data. Take a moment to let that sink in. When your head stops spinning, consider how much of that data originates from your brand.
If you're a content marketer for an enterprise company, your organization likely uploads countless bits and bytes of content daily. We try to keep track of it all using metadata, but chaos reigns if you don't have a system in place to store and organize your information assets.
Enterprise metadata management describes the process companies use to manage their metadata. This obviously extends way beyond the more narrow context of content metadata, but it's helpful to understand the larger practice before we narrow the scope. Today we're diving into three primary components of metadata management:
What it is and its benefits
How to create an effective metadata management strategy and structure
A solid tool you can use for managing your content metadata.
What Is Enterprise Metadata Management?
We've all heard that metadata is the data about data. In content marketing, it's the bits of information that describe your content and any other relevant information associated with each asset: the who, what, when, and why that provides context.
According to the National Information Standards Organization, metadata takes three primary forms:
Descriptive: Aids in understanding or locating an asset
Structural: Describes relationships between one information source to another or between parts within an asset
Administrative: Enables faster information decoding and long-term asset management
Though each of these allows you to manage individual assets better, they don't provide an organizational system for the metadata itself.
Without an organizational system, it isn't easy to maintain consistency and accuracy across assets, applications, and your organization. Enter enterprise metadata management, which Garter describes as "the business discipline for managing the metadata about the information assets of the organization."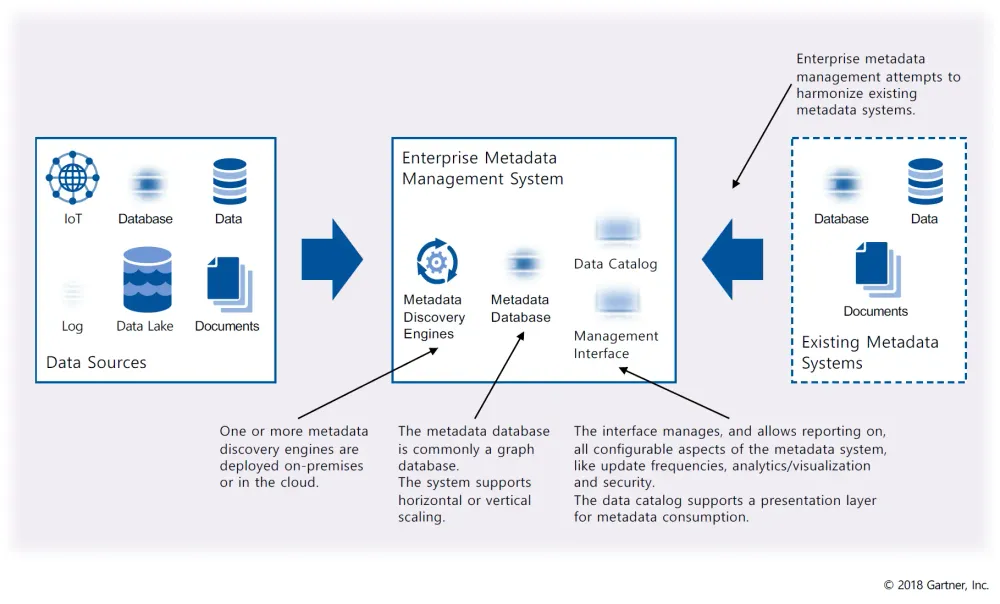 The Benefits of Managing Metadata for Enterprises
As an enterprise business, your organization likely produces a complex information network across multiple departments, each operating in its own silo. Despite the disconnect, multiple departments likely utilize some of the same information and data to understand, plan, produce, and analyze performance. Implementing an enterprise-level metadata management system:
Provides consistency in identifiers across the organization through standardized classification
Improves metadata quality
Improves information flow and governance across applications
Automates searches and metadata updates
Improves regulatory and standards compliance
Enables automated and accurate analyses
When you have a single content operations platform like DivvyHQ that connects your enterprise applications to your content data, it allows you to streamline your enterprise metadata management strategy.
What Are the Essential Components of a Metadata Management Architecture?
To implement a strategy for managing your enterprise's metadata, you need to establish the structure you will use. A decentralized architecture is often the go-to structure due to the siloed nature of large businesses.
However, we recommend establishing a centralized structure with a single metadata repository for your entire organization. A centralized architecture simplifies organization, management, and governance. It also makes ensuring consistency in definitions, standards, and policies easier.
The Elements of a Centralized Structure
Without the right architecture in place, you won't have the technological capabilities to streamline your enterprise metadata management processes.
One Repository To Store It All
In The Lord of the Rings, Sauron creates "one ring to rule them all" to contain and control the powers of three other rings of power. While his intentions are devious, the analogy is useful when envisioning how a single repository works.
The three rings of power represent most businesses' traditional operational and informational silos, with quite solid boundaries. Though information overlaps, it isn't automatically shared or easily accessed.
The One Ring dissolves the boundaries, as a single repository breaks down your business's information silos. With a centralized storage and organizational structure, data flows freely across departments. This structure also makes it easier to identify and remove inconsistencies and inaccuracies.
But every company is in a different place when it comes to digital transformation. Even within mature organizations, individual departments may not have defined or incorporated their operational use cases into an enterprise solution.
Source: b.telligent
What About a Content-Centric Metadata Repository?
When we narrow the focus to content metadata, we often find that marketing and communications teams are lacking in metadata organization, documentation, or centralization. With content metadata being such a key part of DivvyHQ's user experience and reporting functions, new Divvy customers are guided through various strategic exercises that help to establish a variety of elements, including (but not limited to):
Content properties, channels
Content types and formats
Content-centric goals, objectives, initiatives
Topics, pillars, and themes
Audience segments, profiles, and/or personas
Buyer's journey and/or customer stages
Publishing channels/platforms
Promotional channels/platforms
Keywords and other descriptive tags
Content owners, authors, other producers
These types of metadata are associated to every asset that is created in Divvy, from web pages and landing pages to emails and social media posts. This data allows marketing and communications teams to realize many of the benefits previously mentioned, including improved searchability, consistency, reporting, analysis, and automation.
Automated Processes to Keep it Going
Source: Statista
Content, comms, and marketing teams have enough on their plates without introducing another task in the name of organization and efficiency. Without automation capabilities, you won't achieve the desired efficiency and effectiveness. You should be able to automate:
Workflows: Automated workflows allow you to establish custom workflows related to metadata management, such as updating tags when compliance standards or content strategy goals change.
Notifications: Automated notifications alert team and organization members about important changes or updates.
Reports: Automated reporting simplifies enterprise metadata management analyses using data from all relevant content channels.
Divvy's platform employs robust automation technology to keep your processes flowing. You can fully customize your workflows, establish notification rules, and assess your metadata management strategy using data from all your content channels.
Communication Tools to Encourage Collaboration
Effective metadata management requires open communication channels and ongoing collaboration. Though you may hold the "One Ring," relevant stakeholders will participate in establishing, defining, and refining the metadata for your information assets.
Providing an efficient communication tool helps remove the barriers that keep everyone operating in silos and makes collaboration easier, a necessary component of enterprise metadata management.
When we designed DivvyHQ, we wanted to address the unnecessarily convoluted communication streams we use. We were tired of missed emails, unanswered calls, and the frustrations of trying to coordinate meeting times.
We baked communication and collaboration right into our system. Instead of messaging or emailing using a separate application, we built a messaging tool that allows communication between authorized stakeholders without leaving the platform.
Integrations to Connect it All
For a centralized architecture to work, it needs to connect to other applications your organization uses to gather, produce, and distribute data and information. For example, if the system can't pull down data from your customer relationship management (CRM) system, it won't be too effective in streamlining your organization's metadata.
Fortunately, Divvy's content operations platform integrates with more than 1,000 tools. We also offer an open API that provides ultimate flexibility in integrating with other, third-party platforms.
Which Platform Is Best for Enterprise Metadata Management?
There are a host of beefy metadata management platforms out there designed with the full scope of an enterprise in mind. But content operations are undoubtedly a central feature of your business. A platform built for content operations can be a key RING for the LORD of enterprise metadata management. Divvy's platform provides the necessary tools to standardize, organize, and manage all content assets across your organization. Request a demo to see how it works.