While the practice of content marketing has been around for decades, it's only started to come into its own as a recognized and respected form of marketing in the last decade. As the practice has proliferated globally, so has the introduction of dedicated, content-centric staff within corporate marketing organizations. Among the most common new titles we see these days is the Content Marketing Manager.
According to Google Trends, the term "content marketing manager" was rarely searched until around 2013. Interest in this new role rose steadily over the following two years and has remained steady since 2015.
But what exactly is a content marketing manager? Do you need one? To understand these questions, you first need to have a clear picture of what content marketing managers do on a day-to-day basis.
A Content Marketing Manager's Role
A content marketing manager is ultimately responsible for managing a company's content marketing operation, and the overall success of content marketing initiatives. They guide content marketing strategy, facilitate ongoing content planning, manage day-to-day content creation, editing and promotion, and report on the results of each content marketing initiative.
Skills & Experience
In a recent study, researchers scoured more than 300 "content marketing manager" job listings from Indeed, Glassdoor and LinkedIn to examine the qualifications requested by companies. This infographic by Sarah Robles sums up their findings nicely.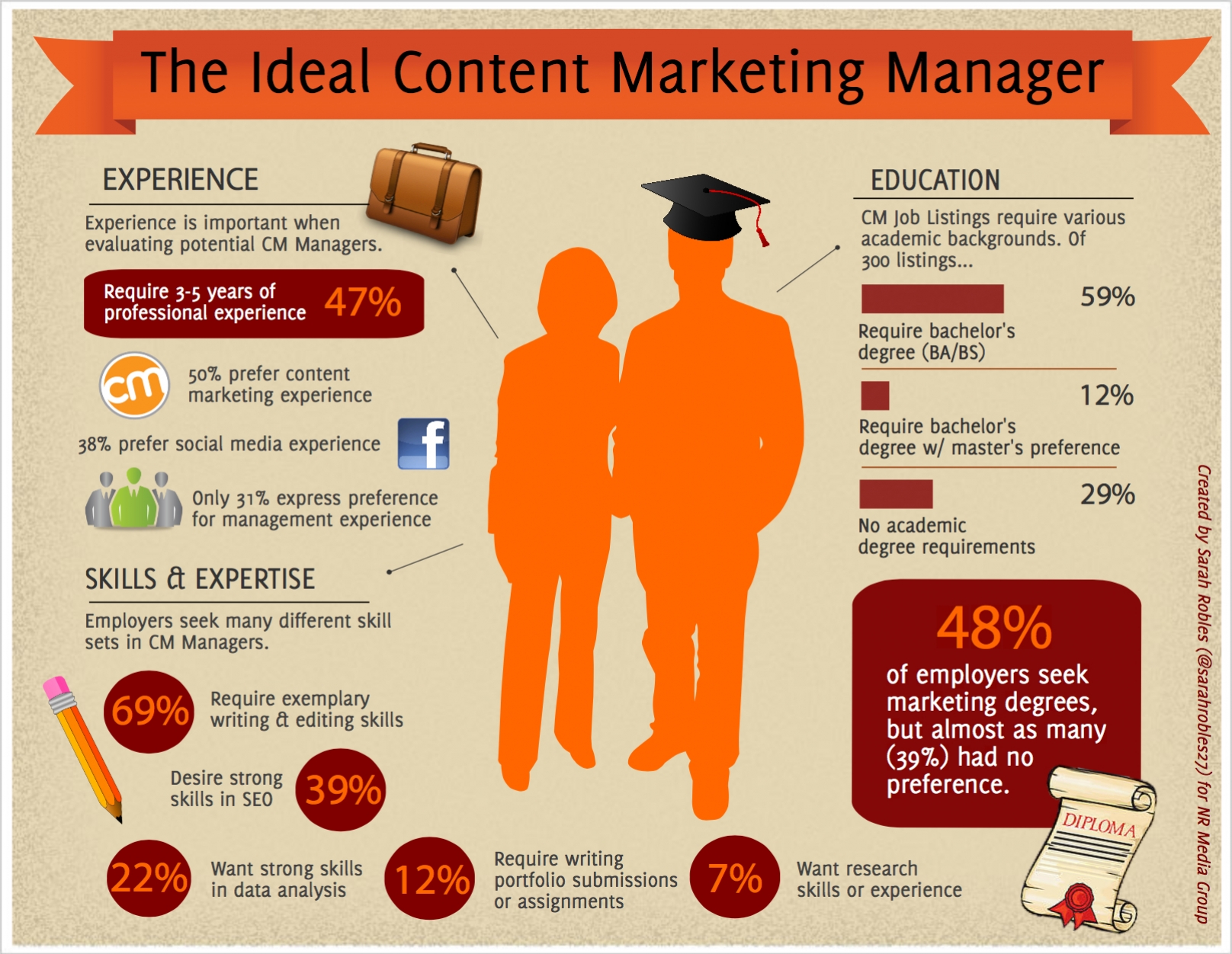 Source: https://www.nrmedia.biz/blog/ideal-content-marketing-manager
A Content Marketing Manager's Responsibilities
Here are the eight strategic initiatives that most content marketing manager will be responsible for developing.
1. Research and Competitor Analysis
The content manager's main aim is to successfully carry out the business' content marketing strategy by publishing and promoting content that achieves the goals set out in the strategy. It's impossible to create an effective content marketing strategy and plan without initial research. This research helps the content manager and creators to understand their target audience better and decide what types of content to create and which topics to cover.
This research might involve:
Analyzing competitors' content, messaging and distribution tactics
Identifying target audiences and their key demographics, interests, and online behavior
Surveying current customers to understand and validate strategic and tactical decisions (template below)
Facilitating internal stakeholder interviews to identify business objectives and subject matter experts
Keyword research
Research to define appropriate subjects and topics
Looking into content tools and software that can help them to create and promote content
2. Preparing Content Marketing Plans
After an initial research phase, the content marketing manager can start working on one or several content marketing plans. Depending on the size of the company and scope of their offering, multiple content marketing plans will often be needed to define strategy and tactical execution for individual brands, business units or channels. For example:
A bank may have one content marketing plan for their consumer offerings, and another for their commercial offerings
A software company may have an external content marketing plan aimed at generating new business, and a separate content marketing plan designed to retain and up-sell existing customers.
Each content marketing plan should be informed by the overall content marketing strategy (which is usually created with the help of the wider marketing team) and should define the exact goals for each initiative and identify how the content manager will achieve these goals with content.
Content marketing plans should include (at a minimum):
Specific, measurable goals with a timeline in which to meet them
A general budget with estimates for staff, creative resources and paid promotion
The types of content that will be created (ex: blog posts, ebooks, white papers, infographics, etc.)
The topics that will be covered (and why)
The channels that will be used to distribute the content
A plan for paid promotion of the content
An execution plan outlining the publishing frequency, production workflow (creation, reviews and approvals) and ongoing maintenance of the content
Your content marketing manager may also create individual content marketing plans for specific campaigns, an overall plan for a set time period (such as the next quarter or year), or a combination of the two.
3. Creating an Editorial Calendar
Once a content marketing plan has been flushed out, content marketing managers can now plot deadlines for creation, publication, and promotion on a content calendar so the whole marketing team can see at a glance what content is planned for the coming weeks and months.
Having a visual editorial calendar helps your content manager align content publication and promotion with key dates that are important to your business and other marketing campaigns. It's also important to build slack time into the schedule to allow for any delays in content production and to allow for last-minute, real-time marketing opportunities.
4. Content Creation
After the content plan has been created and approved by all relevant stakeholders, it's time for the main responsibility of the content manager – actually creating the content.
This being said, not all content managers will physically produce and publish each piece of content. Many content marketing managers will be dictating production workflows and overseeing a team of creatives. However, it's vital that your content manager has excellent writing and editing skills as they'll hold the ultimate responsibility for what is finally published.
As well as researching and writing content, content marketing managers may need to source photographs and illustrations to accompany written content, format content, and add meta information.
5. SEO
It's not enough for online content to read well and be free of spelling and grammar errors. Content marketing managers must also have search engine optimization skills to make sure that web searchers can find their content and that it appears on the first page of Google and other search engines.
If you have an entire digital marketing team at your disposal, you may have already employed an SEO specialist. Alternatively, you may be outsourcing your SEO needs to a specialist agency. Despite this, it's still important that your content marketing manager understands at least the basics of SEO in order to carry out an effective content marketing plan.
6. Editing and Ensuring Adherence to a Style Guide
When a content marketing manager has a team of writers to manage, their editing and proofreading skills are essential. They also have to be able to give constructive feedback.
It's vital to maintain a consistent brand voice in your content and this can be challenging when there are several writers working on your content. A style guide is essential for this reason. Your content marketing manager should create this style guide, which might include information about brand personality, writing styles, punctuation and grammar preferences, SEO best practices, and guidelines to aid in selecting images.
As well as making sure that each piece of content is proofread and edited before publication (if not personally, then by a dedicated editor), your content manager must also ensure that all content adheres to this style guide.
7. Publishing and Promoting Content
After each piece of content is produced and approved, it's the job of the content marketing manager to ensure it gets published and promoted to the right people in the right place at the right time. They might do this manually themselves or leverage technical staff to load content into a web CMS, email marketing or social media automation tool.
Once published, a pre-defined promotional strategy should be executed, often including automated social media posts or other tactics that fire at times selected for the best engagement. This type of content automation is an effective way to speed up your content production without having to grow your team.
Your content marketing manager must also integrate your content strategy with the rest of your marketing campaigns and identify other channels for online and offline promotion.
8. Content Performance Monitoring and Analysis
Your content marketing manager's job doesn't end once they've published a piece of content. One of the most important parts of this role is continual monitoring and analysis of published content so they can see what's working and what isn't working. These insights will inform future marketing plans and provide intelligence for your overall marketing strategy.
Content analytics software can help to make this task a straightforward one, but it's important that your content manager still takes the time to interpret the data, make suggestions and draw actionable conclusions based on it.
You'll also need to monitor engagement with your content, reply to comments and questions, and note suggestions for future content. All this comes under the umbrella of the content marketing manager's responsibilities, although they may outsource some or all of these tasks.
Do You Need a Content Marketing Manager?
Certainly, many of the tasks outlined above can be outsourced or delegated to other team members, freelancers, or agency partners, so it can be tempting to think that you don't need to fill this role at all.
However, this line of thinking is unwise. The job of your content marketing manager is to ensure your content marketing strategy succeeds. If you don't have a passionate, talented person in this role, it's easy to get lost in the day-to-day grind of simply churning out content.
Content marketing managers tie together all the individual parts of your content strategy – writing, SEO, promotion, analysis, and optimization – with a clearly defined content workflow.
Hiring someone to manage your content marketing strategy might be a big investment, but you may not get a return without it.