White papers take a little more effort to produce than blog and social media posts but they can be a highly effective marketing tool. You can use this type of content to position your company as an authority or thought leader in your industry, bring more traffic to your site, and capture leads. So what content is important to include in a white paper?
What Is a White Paper?
A white paper is a type of long-form content that contains in-depth content, data, charts and diagrams, designed in a visually appealing manner. It's similar to a report or ebook, but the content itself tends to be more technical than other marketing materials.
Created with the intention to educate the reader, white paper topics may go into a lot of detail about a particular product or service.  This type of in-depth content is prevalent in marketing to B2B audiences and is common in the financial, consulting, and technology sectors.
Why White Papers Should Be Part of Your Content Strategy
As nearly every industry has embraced content marketing, you'll commonly see white papers available across many industries.
While long-form content may lend itself more easily to technical industries, almost any company can benefit from creating a white paper to showcase their expertise and knowledge in a particular area.
Some of the benefits of using white papers in your content marketing strategy include:
Cementing your position as an authoritative source of information and boost your brand profile while increasing trust with your audience.
Drive sales, particularly when white papers are used to go into detail about the products and services your company offers.
Effectively generate leads. The valuable information in a white paper is usually not easy to find elsewhere. As a result, people are typically willing to provide their contact information in exchange for the document download.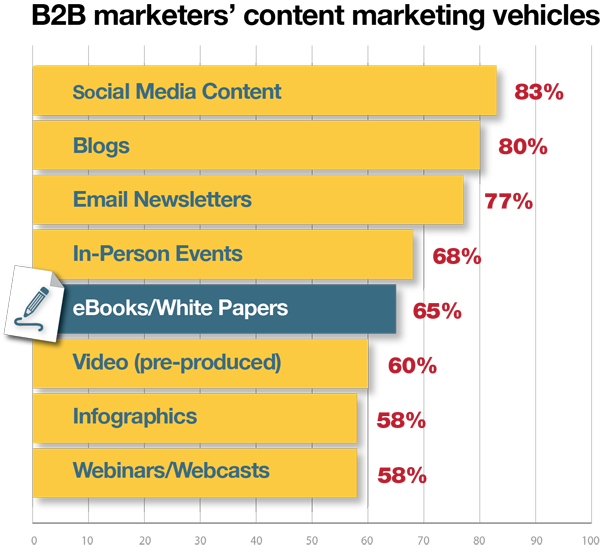 Image Source: Alterra Group
What to Include in a White Paper
Writing a white paper can be a daunting task for a content writer who is used to creating blog posts and marketing copy.
Many companies choose to outsource the task to a technical writer specializing in white paper creation. These writers will be familiar with the format and structure of a typical white paper, but will still need detailed guidance on the content.
So what type of content should you include in a white paper?
Choosing the Right Topic
The first step for creating a great white paper is choosing a good topic. This is critical to get right because if you write a white paper that nobody is interested in reading, you'll have wasted a lot of time and resources.
Consider picking  a topic that lacks detailed information elsewhere on the web. Filling in content gaps makes your information valuable. On the flipside, if you're just rehashing information that's easily available on the web, don't expect there to be much interest in your white paper.
Some common formats for white papers include:
Original Research
One common factor of high-quality white papers is that they reference data based on original research.
When you're looking for data to back up a blog post, the quickest and easiest way to do this is to Google the information you're looking for and link directly to the source.
However, this is not true for white papers. Such in depth content performs best when you conduct your own research. This may mean surveying customers, compiling raw data into a usable format, and studying industry trends.
Attractive Visual Formatting
No one wants to read a block of plain text in 2020. This is especially true for white papers (in fact, a white paper doesn't necessarily have to be a standard written document at all.)
As we mentioned earlier, white papers should be visually interesting. It's worth hiring a graphic designer to make your document look professional to attract more downloads and attention.
Visual information is especially important when it comes to data representation. Reporting mere figures can be dry, thus the importance of including images, infographics, and charts to illustrate and explain your points.
Again, it may take more time and budget to create attractive visuals, but you can reuse them in other pieces of content. Using visual images will make your white paper more likely to be read and shared.
In Summary
White papers are more than just a marketing trend. They're a proven way to generate leads and can accelerate the speed at which your authority and brand reputation grow.
Putting together a quality white paper can take a lot of time and effort, so you'll obviously want to get the most out of it. Make sure part of your content planning effort addresses the promotion of the asset via a variety of channels. A beefy promotional effort can quickly turn the asset into a lead magnet to bring in new prospects.
You'll also want have all the necessary tracking and reporting mechanisms in place to track the metrics associated to your white paper campaign (landing page views, number of downloads, etc.).
If you're thinking about kicking off a new white paper campaign, a content marketing platform can help you on multiple levels. Multiple assets need to be devised, planned and produced. And you'll need a content analytics tool to track performance.
If you'd like to see how all this can be managed in DivvyHQ, request a demo today and we can show you how easy the process can be.