No matter the industry, content marketing has the ability to drive incredible growth and customer engagement for companies who make a commitment to executing it. The real estate world is certainly no different.
Both residential and commercial real estate agencies and practitioners obviously have a need to market the properties and services they're selling, but they also need to focus on building their reputations and networks, which can be a significant driver of referrals.
But the real estate world is a unique animal that certainly has a fair amount of unique challenges. Unlike B2B companies where company employees are using company budgets to buy things that help the business grow, real estate purchases often involve high emotional stakes and large financial investments, perhaps the largest investments people will make in their lives. Emotionally charged purchases require a lot of trust between the buyer and the brokers of those deals.
There's also so much variation in the types of buyers and their informational needs throughout their journey. For example, the needs of a first-time home buyer are obviously very different than the needs of a seasoned, commercial real estate investor.
Like content marketing for any other industry, real estate content marketing must be laser-focused on understanding the target customer that will likely be buying.
To learn how to use content to drive traffic and engagement like the top real estate companies do, let's dig into all the ways you can put an effective content strategy to work for your real estate business.
It Starts with a Commitment
If you talk to any real estate agent who has been around for a while, they'll be quick to tell you that success is all about building relationships. And they're certainly not wrong, but the digital world has changed the game. Much more of today's game is played online, where the top sellers leverage content and technology to rapidly grow their networks, engage with buyers on a larger scale, and build bigger deal pipelines that close higher volumes of properties.
That all sounds great, right? Well, it also takes work and a level of commitment to building out processes, configuring software tools, and maintaining a marketing operation that may not generate results over night. Many agents might not be up to that. They may not be willing to make that investment. They may feel that the good-ole networking approach produces the opportunities they need to do well and live comfortably. Hey…you do you, Mr. Candlestick Maker.
The reality is… There is going to come a time, which may already be here, where buyers are going to expect more. They're not going to want to meet in person, they just want the slick app that pings them anytime a matching listing hits the market. They just want to watch the VR tour of a listing that looks like a good fit. They've already pulled the pricing comps and done their research on the neighborhood via your biggest competitor's website.
So…what are you going to do about this? You need to make a commitment.
Elements of Your Real Estate Content Strategy
One of the reasons we talk so much about making a commitment is due to the wholesale shift that often has to take place within the minds and processes of real estate practitioners. Without that commitment, you're likely to go back to your status quo.
The best way to start making the shift is to define and document what a new content-centric, go-to-market strategy (a.k.a. content strategy) will look like. The following components are key exercises in flushing out your strategy.
Purpose & Positioning
Much like a startup that is just starting to figure out whether their product idea is going to truly fit the market that they're targeting, an inexperienced real estate agent may have no idea how their strengths, weaknesses, network and knowledge will shape their future position in the market.
As the years go by, experienced practitioners find their sweet spot and will have an easier time narrowing in on a winning position. As with a startup, the more research that is done on the market, the quicker you can get there.
For example, I have several close friends who have been in real estate for a while. Some are on the commercial side, some residential. In each case, it's taken them years to determine which types of properties they have the most success selling, and what types of buyers they need to nurture for future deals.
Research Your Target Audience
An effective strategy requires a great deal of knowledge of your target customers, and an understanding of what makes them tick. But before you define those targets, some basic audience segmentation needs to take place. This exercise helps you organize potential targets into groups (segments) that you can drill into further in your research phase.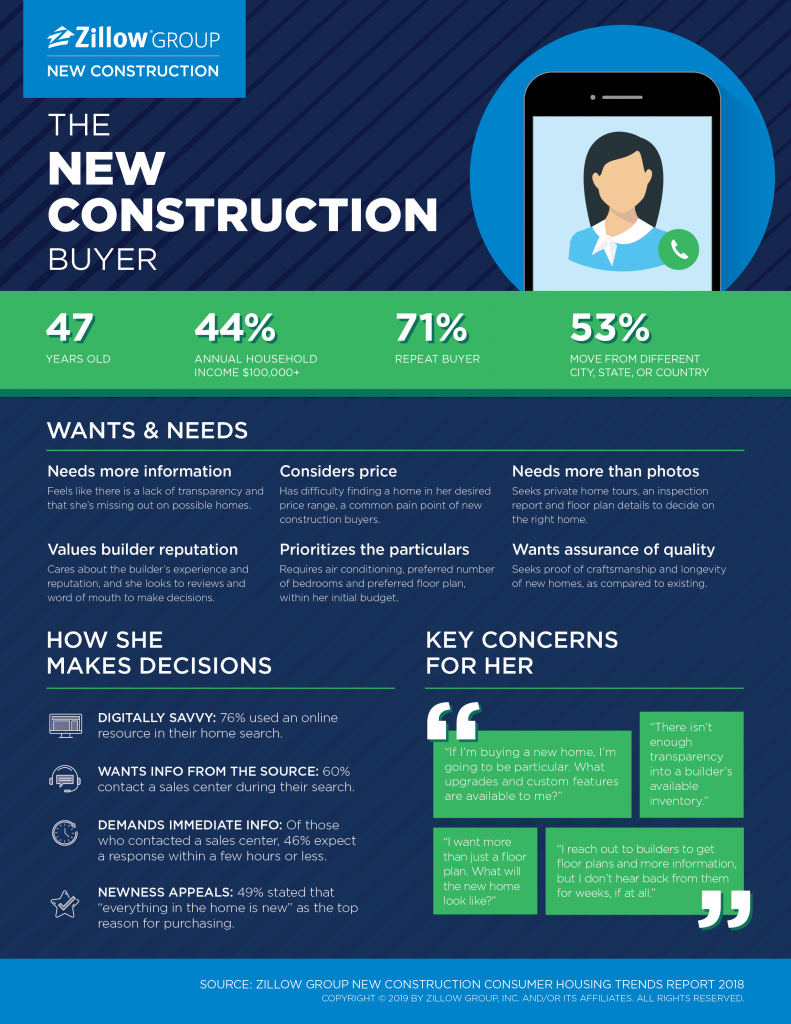 There are a variety of online tools and platforms that can be used (i.e. social media, Google Analytics, etc.) to discover or validate the characteristics, needs, wants and desires of your audience. Potential buyers looking at your luxury lakeside listing with the imported chandelier in the chestnut-paneled dining room will likely differ from those who are browsing your inventory of suburban split-levels that will require some updates (young newlyweds have more energy, after all).
Look at their social media likes, their demographics, their technology, and their location to nail down the characteristics of each. From this data, create customer personas. Make them as detailed and personal as you can. Give these personas a name if it helps you remember them as you write up listing descriptions, or create videos and other visual material.
For instance, you might discover that most of the people that have been visiting your Mid-Century Modern (MCM) home listing are mad about Mad Men, subscribe to Retro Renovation, and often post photos of their $500 1950s toilet or tub they just scored on eBay. They're boomers reliving their childhood, or they're millennials that value authenticity above the latest decorating trends.
On the other hand, the customers looking for the perfect lake house want the latest of everything. Top-of-the-line appliances, countertops in the trendiest materials, and move-in ready features. They're busy CEOs, doctors, and lawyers, and they don't have time to tinker around on the weekend. They just want a weekend getaway where they don't have to lift a finger unless it's to untie their yacht from the dock.
Create Content to Hook & Inform Each Customer Segment
Each segment will seek out the information they need to get smarter and engage with real estate content that intrigues them. Whether you're selling high-end homes in a tony suburb or a humble cottage on a dirt road, buying a home represents a sizable investment for the eventual buyer. From listing descriptions to your how-to blog posts, use language and topics that appeal to each potential customer.
For example, your MCM aficionados want to see detailed information about a home's original features on a listing. You might want to brush up on the terminology that vintage home renovators use (Usually, there are niche websites for each vintage architectural style, like Retro Renovation and Arts and Crafts Homes, just to mention a few).
And you'll generally want to shy away from language like "some updates needed" for this segment. Where you see dated, they see perfection.
As for your lake house prospects, you'll want to mention that imported crystal chandelier, as well as the quartz countertops and Wolf and Sub-Zero appliances the current homeowner just installed last spring. Don't forget to tell them it's only steps to the dock.
How-to blog posts on how to install hudee ring sinks, preferably with step-by-step videos, would probably end up on your MCM prospects' bookmarks, while your lake house shoppers would dive right into a blog post on the "10 Must-Experience Attractions near Lake Wobegon."
Create Content for All Stages of the Buyer's Journey
The old-school, boots-on-the-ground mentality within the real estate world has always created a time management issue for agents. This has historically lead agents to focus the majority of their time on engaging with leads that are in the "ready to look/buy", final stages of the real estate buyer's journey. That mentality needs to die. Here's a great video that talks about this more in depth.
Let Your Listings Tell a Story
Now that you know your prospects, put yourself in their shoes. Make your listing a story about how they'd want to feel as they live their new life in their new home.
Make sure you use proper grammar and spelling. Remember, you're selling something that will likely cost 25 percent of their income every month. They want to feel like they're buying quality, so your language should be top-quality as well. Use an editor or blog writing service if writing isn't in your skill set.
Here's a listing that shows some before and after. Evocative, grammatically correct language simply oozes elegance.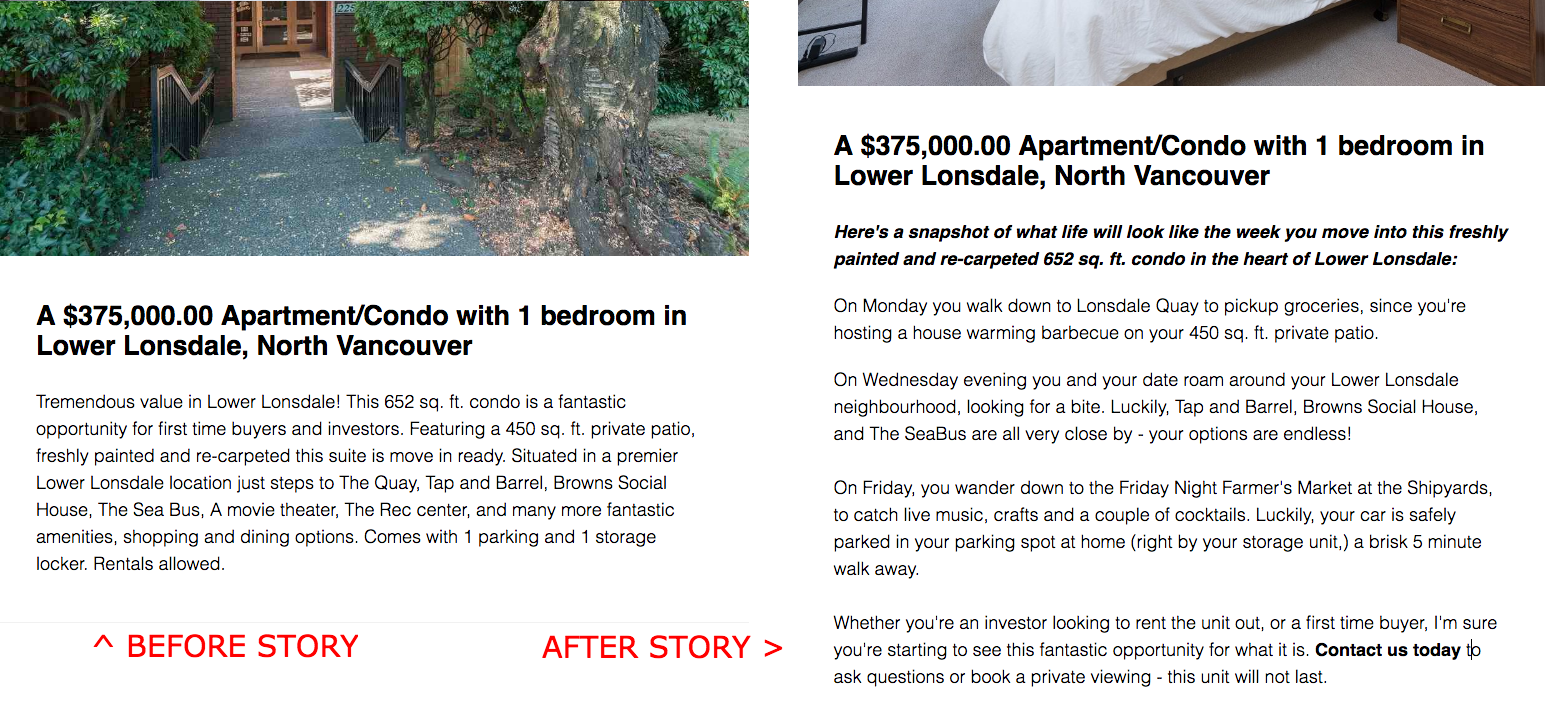 Now, compare the listing above to this all-caps, typo-ridden description of a recently renovated townhome. The home is lovely, but the listing is anything but.
No matter if it's a cottage in the country or a stately Colonial in a tony suburb, prospects need to feel like they'll love living there. Let your words take them there.
Use Your Email List and Social Media Platforms to Promote Your Real Estate Content
Post links to your blog posts and listings on your target customers' favorite social media channels. Always include a link to sign up for your email list so that you can keep the lines of communication open and nurture future prospects who may have stumbled onto one of your helpful blog posts.
Publish newsletter content regularly that's targeted to your audience's interests. Answer their questions and comments on social media.
Publish Content Tailored to Investors as Well
Homebuyers are obviously the bulk of a residential agent's business, but you can extend your reach to both residential and commercial investors with real estate content that educates on topics like interest rate and tax changes, financing, how to choose a property manager, and the merits of multi-family vs. mixed-use retail.
Use the Power of Videos and Other Visuals Beyond the 360-Degree Walkaround
One of the best ways to leverage video content is to help your potential customers solve a problem. As a recent HubSpot article pointed out, 70 percent of people on YouTube go there to seek help for a problem.
Whether it's a video about what to look for in a real estate agent (beware of too much self-promotion) or one that teaches home-hunters how to detect potential problems in homes they're actively considering (like detecting and removing demons), you can build trust in customers with educational videos.
Track Your Progress with Content Analytics
Know the goals you're aiming for and track your progress toward those goals with content analytics. Google Analytics is a good basic tool to start with if you're short on funds.
But once your real estate content is producing a measurable ROI, consider a content marketing platform to simplify the entire process from ideation to creation to measurement. DivvyHQ is easy to use and it comes with a user-friendly interface – a major advantage if you're trying to manage the marketing operations amongst a hoard of busy real estate agents.
When you have a comprehensive plan to put your marketing strategy in full gear, you'll begin to see a jump in your results. If you'd like to see how you can simplify your entire real estate content marketing process, start your free 14-day DivvyHQ trial today.