Content marketing and PR (public relations) shouldn't exist in silos. While they live in different marketing categories (owned vs. earned media, inbound vs. traditional), they strive for similar goals and can work together to drive results for your business. Content marketing for PR can boost the effectiveness of both tactics, expanding reach, visibility, and much more.
PR and Content Marketing, Not So Different After All
Your enterprise content team often has its hands in the PR bucket. While you may have people exclusively dedicated to PR and earned media, the goals and objectives of both have many similarities.
Those shared goals include:
Reaching a specific target audience
Crafting content that gets attention
Amplifying brand messaging
Generating new leads
Cultivating relationships with stakeholders
Different Tactics, Same Objectives
In both, there's a creation and distribution of information. The tactics are different, but, ultimately, it's about sharing content. PR efforts and content marketing are also about building trust. PR's focus is on creating mutually beneficial relationships with the media. PR finds success through third-party media validation. However, you don't control the final message.
Content marketing is your owned channel. Developing trusted relationships with buyers occurs by creating relevant, engaging, and useful content.
In many cases, the messages are the same. Thus, it makes sense that they are more effective together.
Content Marketing for PR: 4 Ways They Can Work Together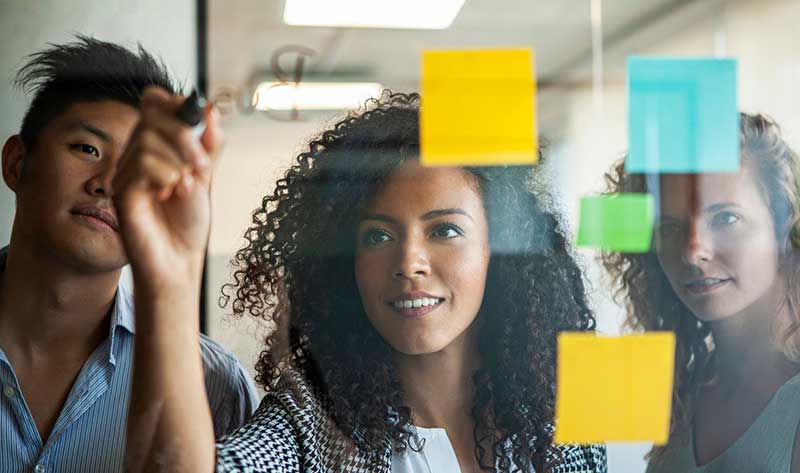 Here are some key strategies to consider to maximize the efforts of content marketing and PR.
PR Helps Establish Thought Leadership
Thought leadership is a critical tenet of content marketing. When your company earns recognition as one, you immediately elevate your brand's place in public perception.
Being a thought leader requires much more than delivering educational and expert advice. You have to achieve visibility for anyone to pay attention.
PR is a powerful tool for fostering thought leadership. By developing content that's valuable to audiences, you can get the media's attention in your industry and associations.
Here's an example. You develop a state of the industry report based on surveys and feedback from those in it. The report is data-rich and offers lots of insights for your target buyers. You publish the report on a gated landing page for lead generation.
In addition to what you're doing on your owned channels, you should also create a press release for initial pick-up by the media. Your PR experts should also reach out to journalists and other stakeholders regarding the report. This can translate into interviews, press coverage, and speaking engagements.
Combining these efforts will significantly expand your reach and who sees your report. It will boost your visibility and could create buzz, leading to more downloads.
PR Improves SEO
The battle to rank and win on Google is critical to every brand. Content marketing includes SEO best practices to improve rankings. However, it's not always something you have control over, and competition is fierce.
PR can actually be another tool to optimize your organic rankings. One of the most tangible ways is through high-quality domain backlinks. When you create a press release that the media picks up, there will always be a link back to your website. If these sites have high domain authority, that signals to Google that your website is high-quality.
Another way that PR supports SEO is by expanding your online presence. The more your brand receives press recognition (and backlinks), the more visible it is to search engines. Because these are earned — not paid — mentions, Google recognizes them as reputable.
To measure the impact of PR and content marketing, dive into your content analytics. Look for referring domains, new user sessions, and percent of traffic from SEO to determine success.
PR Is a Channel for Content Promotion
You can create exceptional content for your audience, but it won't deliver ROI if nobody sees it. While you can distribute content through channels you control — your website, email, and social media — that doesn't always equate to engagement.
Here's how PR can help with promotion. If you craft a data-focused, educational whitepaper or blog post, journalists, editors, and influencers may have an interest. As the piece isn't promotional, sending it to these people isn't salesy. Rather, you're just adding to the conversation of an important topic.
If you don't have existing relationships with the media, you can always use a site like HARO (Help a Reporter Out) to develop connections.
This outreach may result in additional coverage or simply sharing on social media profiles. Your content gets a promotion boost and a wider audience. Engagement like this can lead to more earned media such as follow-up interviews or the chance to publish guest posts.
PR Makes It Easier to Collaborate with Influencers
No matter your industry, there are influencers. They often have the trust and attention of your target buyers. Working with them on a content piece isn't as simple as pitching it. They need to be confident in your brand's credibility. If you're using PR as a channel to magnify messaging and gain attention, influencers may be more apt to say yes.
If they see that your brand makes the news and receives media coverage, they'll see the benefit of collaborating. Such projects can deliver lots of benefits, from more leads to higher search rankings.
PR and Content Marketing — How to Stay Connected
When considering the strategies above, you may have concerns with content and PR teams staying on the same page. Communication is essential, but so is the visibility of campaigns. Using a content marketing software with a content calendar can keep everyone in the loop.
As part of content workflows, you can add PR elements so that it's a truly integrated project. When all efforts are on one platform, it's also easier to analyze the performance of each tactic.
You can do that and much more with DivvyHQ, the flexible content marketing software that makes collaboration simple. See how it works by starting a free trial today.