If someone were to get all meta and survey B2C marketers about which survey results they look forward to most each year, you gotta like CMI and MarketingProfs' chances of claiming the top spot. Their recently released 2019 B2C Content Marketing Benchmarks, Budgets, and Trends marks the ninth edition of this annually anticipated report.
Don't have time to read it cover to cover? That's quite alright. We gave it a good twice-over for you. Here are our top takeaways from the B2C content marketing statistics featured in this year's report.
Content Marketers Still Aren't Comfortable with Their Measurement Proficiency
Less than one-third of respondents said their teams were extremely/very proficient with using the metrics they've selected to monitor content marketing performance. More than a quarter of B2C marketers admitted that their measurement is not very/not at all proficient.
ROI measurement tells a similar story (below), with fewer than three of every five B2C marketers saying they measure the ROI of this mission-critical initiative (this makes the assumption that the lion's share of "unsure" respondents belong in the "no" category).
Clearly, most B2C marketers could benefit from a content marketing analytics function that puts these selected metrics, including ROI-related metrics, front and center. Analytical proficiency is also more likely when you set up your content measurement system with ease-of-use in mind.
Building Customer Loyalty via Content Is a Top Priority
Primarily used to build brand awareness and generate demand, content marketing has now officially permeated the entire customer journey. It's generally a good idea for marketers to strike a fairer balance between keeping existing customers over attracting new ones, although that's easier said than done – marketers generally aren't held as responsible for (nor rewarded as handsomely for) renewals, cross-sells and upsells. Nonetheless, content marketing has always held enormous potential for building brand affinity among existing customers and it's nice to see that more B2C marketers are making headway in this area, with 81% of content marketers agreeing that their organization is using content to build loyalty.
Content Marketing Budgets are Increasing
At first blush, this doesn't seem significant, but think about if the opposite were true. We'd be freaking out. I'd set the over/under on content-marketing-is-dead-themed articles at 125. The fact that companies are allocating more money to content marketing even though basically everyone's been using it for years says something about the approach's staying power.
Paid Content Promotion Is Prevalent in B2C
This year's survey was the first to include a question asking B2C marketers whether they do or do not use paid methods to distribute content. Turns out nearly seven of every 10 B2C marketers do.
Where's that paid budget going?
Sponsored content on social media and search engine marketing/pay-per-click are the two favorite distribution methods, by a decent margin. Content recommendation engines, on the other hand, have fallen out of favor.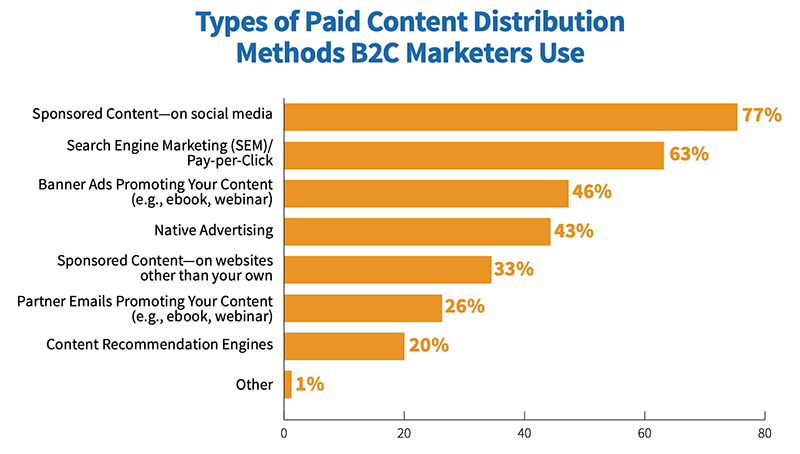 Many B2C Marketers Use Paid as a Plan B
I found it interesting that 71% of survey respondents said they use paid distribution methods when organic search isn't producing desired results. As if paid is a sort of savings account for underperformance emergencies.
Considering that we already know it's harder to achieve prime search visibility these days, and that paid can be used as a vehicle to indirectly influence organic visibility, it's somewhat surprising that B2C marketers aren't more proactive with paid distribution.
The Best Laid Plans of B2C Marketers…
Last year's report showed us that 38% of B2C marketers said they have a content strategy, and that it is indeed documented. Twenty percent said they planned to document their strategy within 12 months.
This year, 33% of B2C marketers said they have a documented strategy. Twenty-two percent said they do not, but plan to within 12 months.
Nevermind the fact that about five percent of B2C marketers must've fed their strategy to the shredder — what happened to all those who planned to document their strategy?
This year's report contained the following forecast: "By January 2019, an estimated 77% of B2C marketers will be using personas."
Skepticism aside, the bigger concern is that B2C marketers' plans (in some pretty critical areas) aren't coming to fruition. If you're among the marketers whose plans look a little too much like last year's plans, might I suggest checking out a particular content planning tool that's been the content marketing crowd's favorite for three years running?
It's time to turn those best laid plans into real, hard-earned results. Start a free, 14-day trial today!