The day-to-day aspects of content marketing are hard enough without having to stay on top of what kind of content you have in your library and whether your strategies are working. Consider a few recent stats…
70% of B2C content marketers have stated that content is more important now than ever. And B2B content consumption increased by almost 19% from 2021 to 2022.
Your team needs to work smarter, not harder, to keep up with content demand and outrank your competitors on the search engine results pages.
If your team's been pushing out content for a while, maintaining your inventory and analyzing performance can be daunting. A content inventory tool can be a lifesaver, but you don't need to look for new software when you use DivvyHQ. Check out why we're your MVP for content inventory management.
Reasons You Can't Do Without a Content Inventory Tool
Your team can pump out content all day long, but it won't guarantee that you will get the results you're looking for. Hopefully you have documented strategies (if not, here's how to develop a content strategy that drives results) but how do you know they are working?
Google isn't too fond of outdated and unhelpful content floating around cyberspace. By maintaining a robust inventory, your website will remain in the search engine's good graces, improving your website's SEO performance.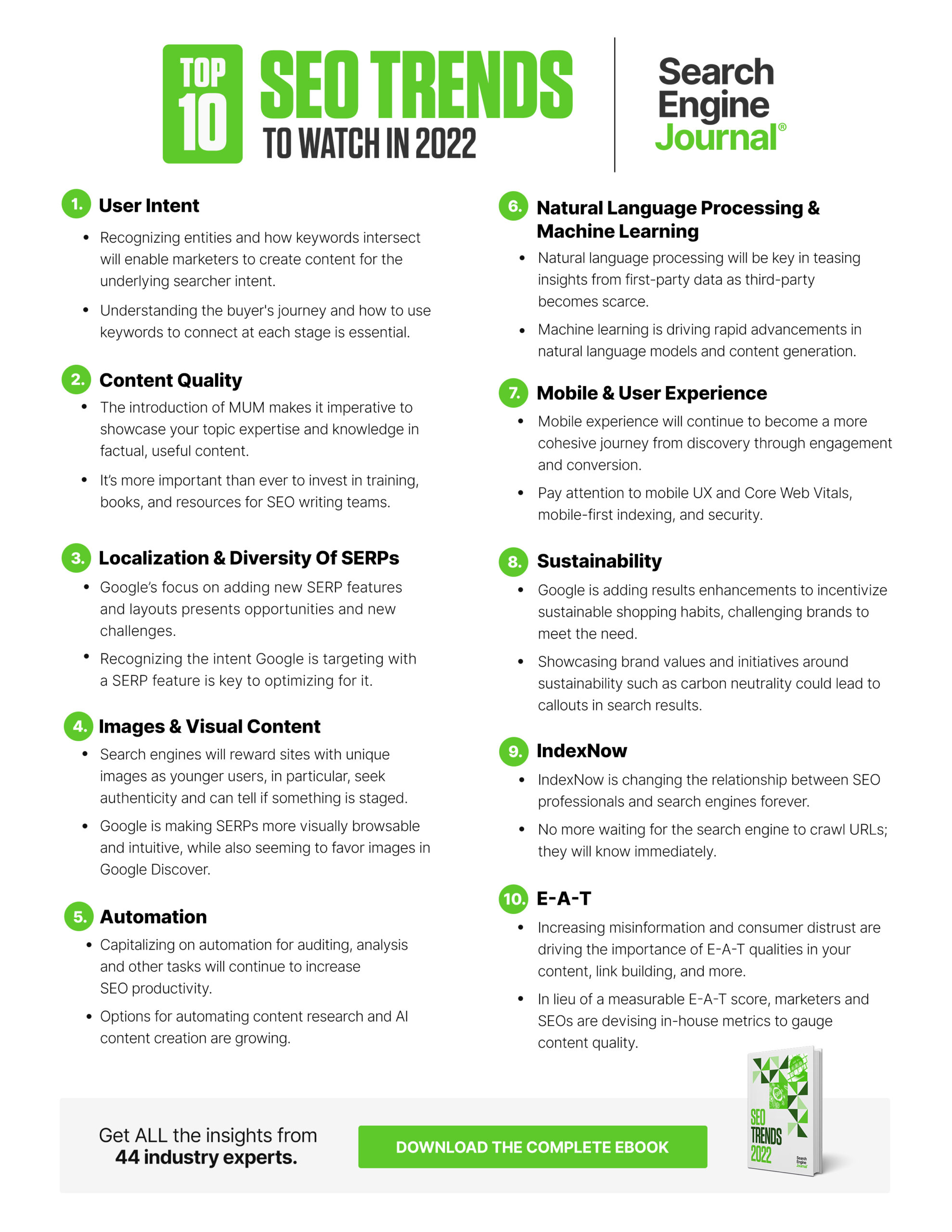 Source: Search Engine Journal
Auditing your inventory lets you know what to prune, keep, repurpose, and update based on how well each asset performs. If your company has been content marketing for a while, manually managing your inventory is unthinkable unless you have endless resources to throw at it. The right content inventory tool makes the process more efficient and produces more reliable results.
Maintaining a well-organized library and consistently evaluating topics and performance can prevent your team from overworking its content production muscles. You can see what topics work, know what topics you've already covered in-depth, and discover content gaps.
Features You Need in Content Inventory Software
You need software to help you organize, filter searches, and analyze your content inventory. Certain features of our platform make each of these tasks easier.
Organizational Features
Divvy's platform provides endless ways to organize your content. You define the parameters. These organizational attributes aren't just a great way to visualize content on our content calendar. They are also one of the reasons our software is the only content inventory tool you need.
When your team members create an asset within our platform, they can attach metadata to the item. This information remains associated with the asset within the system. Identifiers include:
Topic: Assigning an asset to a topic helps you track how often your team covers the topic in a month and overall, and on which channels.
Audience: Audience segmentation allows you to target content for specific personas. Labeling an asset with an audience identifier makes it easy to determine whether you provide enough content for each target audience. A content inventory tool can help you quickly locate relevant assets.
Buyer stage: Buyers have different needs at each stage of the buyer journey, with varying content types serving those needs. Attaching buyer stage metadata ensures you consistently address needs at critical stages throughout your audience's journey.
Tags and keywords: Tags and keywords help you further dial in on the specifics within your content for SEO, social, and company goals. Create as many as you like and update them as needed.
Geolocation: Adding geolocation information helps you tailor content to audiences living within different regions and ensures you address issues relevant to the area. Attaching the identifier to the metadata in your content makes it easier to assess whether you are paying adequate attention to all regions your business serves.
With Divvy, you can also create customized metadata fields. Whatever scenarios help you fulfill reporting needs can be attached to the content metadata fields.
Filtering Features
Adding metadata provides a simple way for a content inventory tool to locate desired content when your assets live in the Divvy system. Our platform offers a centralized storage and management system, leading to fast retrieval times when you search for content using your metadata identifiers.
When you need to pull together inventory matching specific search criteria, our filtering features allow you to search and locate precisely what you need. The architecture of our content inventory software gives you the control and flexibility to generate lists according to your desired specifications.
Is it time for the dreaded content audit? Don't worry! Let us lighten your load with our content audit template.
Analytics Features
A well-organized inventory simplifies analytics and reporting. Your options for reporting scenarios are virtually endless. You can pull down reports based on any of the metadata.
DivvyHQ Analytics
Whether you want to see how well one piece performs or assess all content related to a topic, audience, campaign, or strategy, our system generates a detailed and easy-to-understand report. Our built-in content inventory tool allows you to identify:
Content gaps: Discover missed opportunities when you audit your site and other content channels. Use our tool to find out what pain points or interests your audience has that you aren't covering well or discover new topic ideas or twists based on existing topics.
Underperforming keywords: Evaluate your SEO strategy by analyzing keyword performance. Filter your content search by keyword and get content performance insights. Assess underperforming content to determine whether you need to give the asset a makeover or re-evaluate your strategy.
Oversaturated topics: Find out what subjects your team has covered too much. It's easy enough to get on a content production roll and lose sight of how often you publish on the same topics. Divvy's content inventory tool helps you identify when your team needs to pare down coverage.
You can use our content inventory software to discover high-performing assets, which tells you what you're doing right. It also provides an excellent opportunity to repurpose the content.
The Search Is Over for a Content Inventory Tool
There are many tools out there that you can cobble together to do everything you need to manage and audit your inventory. However, why would you juggle multiple tools when one product does it all?
DivvyHQ is the perfect content inventory tool, providing everything you need for smooth-running content operations. Request a demo to see why we're your content inventory MVP.