Content marketing isn't all about your brand. There are many opportunities to share content relevant to your audience that you didn't write. Industry voices, trade publications, and your partners all develop content that would interest your buyers. Part of your content strategy should include content curation. In this post, we'll define what it is and what content curation tools can help you find relevant sources to share.
What Is Content Curation?
In a nutshell, content curation is the act of sourcing third-party material to distribute to your audience. In most cases, it fits into social media marketing. You don't want to post only your original content or promotions. To make your social media content more diverse and engaging, you should also share content from trusted sources. These sources may be helpful if you're looking for quality content to cite in blogs or long-form content. They could also be great adds to your newsletter, so the content isn't only from your brand.
Using content curation has many benefits:
Illustrates that your company is in the know of what's happening in your industry.
Offers a comprehensive view of your vertical.
Provides the possibility of a share for share (if you share a partner's content, they are likely to do the same).
Expands reach and engagement on social media (when you tag other sources, they may retweet or share, getting your brand name in front of possible customers).
Supports points or angles in your content as an example.
8 Content Creation Tools Your Team Should use
Finding this special content isn't always easy. There are many tools you can use to make it easier on your enterprise content team. Here are some of our favorites.
Google Alerts
Using Google Alerts is a simple way to receive aggregated news relating to any keyword. It's very easy and convenient. Simply go to Google Alerts. In the top box, input any keyword to follow. You can adjust multiple settings, including frequency (daily, weekly, etc.), types of sites, language, and country. Once you configure your preferences, finish by clicking Create Alert.
The pros of this tool are that it's free, configurable, and includes new content published. The only con is that with broad keywords, you may get a lot of junk. So, be as specific as possible.
Twitter Lists
Can we all agree that Twitter feeds can be a hot mess? Streamlining and organizing them with Twitter Lists is a way to calm the chaos. With this tool, you can curate groups of Twitter users that typically tweet about specific topics, and are in sync with your brand. For help with setting up yours, check out Twitter's tutorial on list building.
Pocket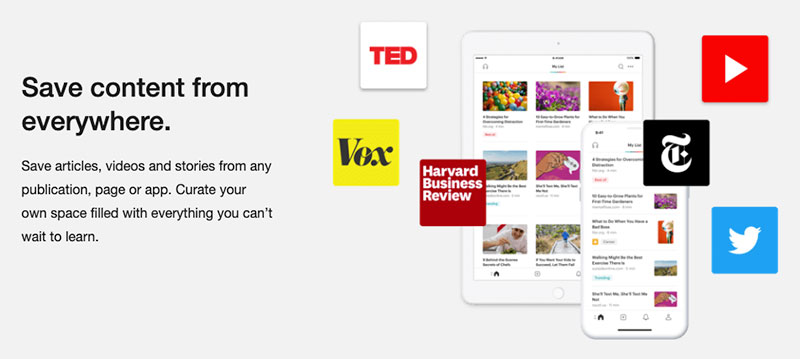 Image: Pocket
The Pocket platform allows you to save content from everywhere in one place. You can install Pocket as an app on a smartphone or a browser extension. It integrates with over 1500 apps, and there are a variety of ways to save. One of the most popular ways is via email.
Elink.io
One of the biggest challenges of content curation is how much time it takes. It could almost require a full-time employee to do it, especially for large brands. elink.io seeks to make it easier. You can save links into multiple templates that you can then use to embed on a website, include in a newsletter, or share on social. Check out the video below to see how it works.
Feedly
Consider Feedly to be a next-generation RSS Feed. It's a news aggregation platform that you can customize in three steps: find, filter, and share.
Image: Feedly
It can be a hub for all the essential sources for your industry. With the added support of Leo, the AI assistant, you can prioritize topics and events. The tool is free to start. After your trial period, it costs $18 a month per user.
Quuu
Image: Quuu
Quuu is a unique content curation tool. It integrates with social media sharing software and analyzes your posts and the platform to provide you with recommendations for content to share. Those recommendations come from real people, so it's like having your own content curation team.
There's also an option to let Quuu be autonomous and auto-schedule social posts, which can be very helpful in the realm of content automation. It saves you time and helps you find articles that your audience will love.
Buzzsumo Content Discovery
Buzzsumo offers multiple features for content marketers. It's great for research on topics and keywords to determine what's being shared most on social. You can also use it as a content curation tool.
The Content Discovery function makes it convenient to find trending content based on the keywords you enter. You can track content performance over time to understand how it's resonating. It's a multi-purpose tool that drives many benefits for content teams.
Is Your Content Curation Successful?
Whether you've been curating for some time or are just starting, you'll want to measure the performance of your activities. Looking at content analytics, especially those regarding social media, can provide insight into if what you're sharing matters to your audience.
You'll want to look at how much engagement those posts receive and if the sources you're sharing are giving you any love back.
The Right Tools Help Content Teams Work Smarter, Not Harder
Content teams rely more and more on technology to ideate, develop, publish, and measure content marketing. These content curation tools are more items to add to your toolbox. That toolbox should also include a centralized content marketing platform. If you want to see what you can achieve with one, try out DivvyHQ today at no cost.