More than 55% of marketers feel their blogs are the most critical component of their marketing strategy, and the same percentage indicate blogs provide the best return on investment. However, an estimated 52.5 million blog posts are published every week. To stand out, content creators must do more than just brainstorm solid blog topics to consistently publish relevant, engaging content on their blog. The different types (or formats) of blog posts are also an essential part of content planning.
Crafting a structured, optimized, and well-written post can improve reader experience and boost engagement (critical if you want Google's crawlers to identify your content as helpful). Employing a blog post template takes care of the structure, allowing your team to focus on the meat of the content.
While a great one-size-fits-all template can work for most blog post formats, you may occasionally want to use a different template for varying post types. To support your content marketing efforts, we've compiled a list of seven awesome templates your team can use immediately.
Why Should You Use a Blog Post Template?
Leveraging blog post templates can provide many benefits for your content team. They can be a catalyst for ideation. Incorporating them as part of your brainstorming activities is helpful.
They provide an excellent framework for fleshing out the outline of a post, helping your creatives push past the dreaded writer's block. Templates also help your team stay on point, maintaining messaging and consistent formatting.
Further, they can speed up the writing and editing process, moving an asset through the publication process much faster. Templates are great for keeping up with an ideal blog publishing frequency.
Finally, they can provide you with insights using content analytics. You can gauge the performance of different types of blog posts. If you find some perform much better than others, add more of them to your content calendar.
Which Templates Are Most Helpful?
The most helpful blog post template is one that you can apply to almost any post format. It's adaptable and malleable, yet still provides a solid structure that reduces your team's efforts when setting up a post.
We also think the best templates provide a few extra tools to help writers organize before fleshing out a topic. Let's look at seven options that make the blogging process easier for your content operations team.
1. The One-Size-Fits-All Template
In creating our blog template, we aimed to design a multi-purpose framework. Consider this template your all-purpose guide for developing more niche formats.
Our blog post template provides additional bells and whistles to lighten the workload for your creatives. When we designed it, we considered organization, research, structure, quality, and critical SEO elements, which should speed up the production process and improve content workflows.
The template contains vital questions to empower content creators in the pre-writing stage. It also provides clarity on formatting and best practices. At the end of the framework is a post-writing checklist, including all elements necessary for the project to move to the next step, such as keywords, metadata, and internal links.
2. The List Post Template
A listicle is a popular blog format. These posts are usually easy to recognize, as they typically include a number in the title (this post is a listicle).
List posts give readers a rundown of the top suggestions for a particular topic or category. This format is great for the information you can write in list form, including:
Tips
Tools
Myths
Strategies
Mistakes.
They should be easily scannable and provide value to the audience. List posts are also great for your team, as they are easy to repurpose.
Ahrefs provides a simple blog post template for listicles that highlights best practices for the title, introduction, conclusion, and the list itself. The organization is SEO-focused, so the template includes advice on how to optimize the post.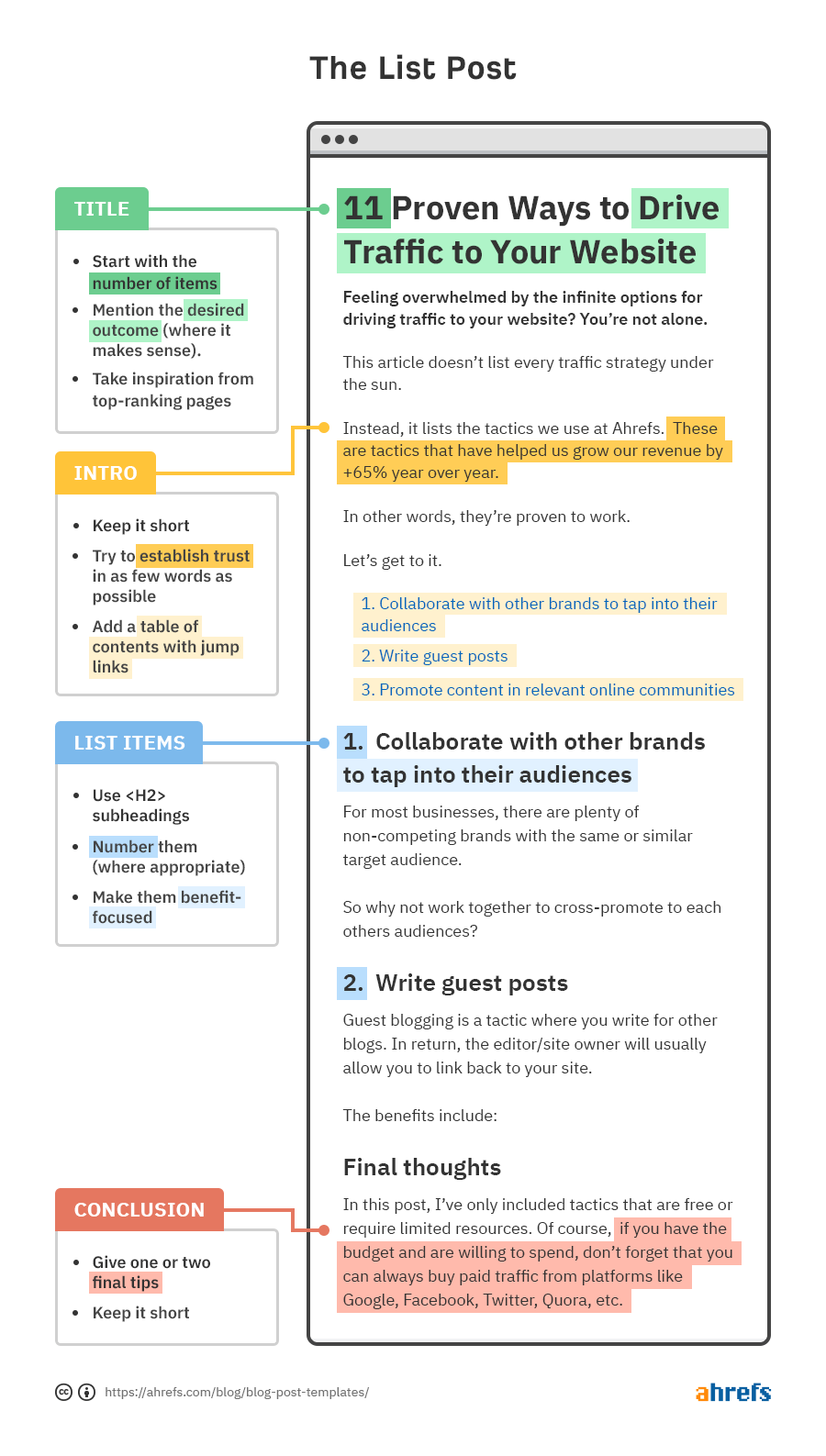 View the template here.
3. The How-To and Step-by-Step Blog Post Templates
How-to posts are essential to a blogging content strategy, as consumers seek this information at multiple points along the buyer's journey. These posts typically provide step-by-step instructions on accomplishing an end goal and often contain photos or videos demonstrating the steps.
Source: The Story Engine
The post can be a guide on how to complete a task like painting a room or for more technical topics such as how to set up goals in Google Analytics. This format is different from a listicle in that it provides information about a chronological process.
Quicksprout offers a blog post template for how-to posts that outlines the most important aspects, including: defining the problem, introducing the solution with steps, emphasizing the benefits of said solution, and a conclusion.
Get the template here.
4. The Case Study Template
Case studies are an excellent way to show off your brand's expertise and promote a client's success. They are usually data-driven and require interviewing the customer.
Using the case study format for blogs can increase reader trust by:
Providing real-life examples of the benefits of your product
Offering proof that your product works as promised
Focusing on your customers
These posts tell a compelling story and contain storyline elements, including a protagonist, a plot, a crisis, and a resolution. Your post should also include key metric takeaways, if available, and callouts of quotes from the customer.
Brandpoint offers a case study template with ample details to help writers before, during, and after writing. It includes good questions to ask and insights on how to structure the content.
You can find the template here.
5. The Comparison Blog Post Template
Comparing two solutions or services is another way to deliver valuable information to buyers. You may use a template like this to compare your product to competitors.
You also might compare other tools important to your audience but don't directly relate to your offerings. This kind of comparison post helps you establish thought leadership in your industry.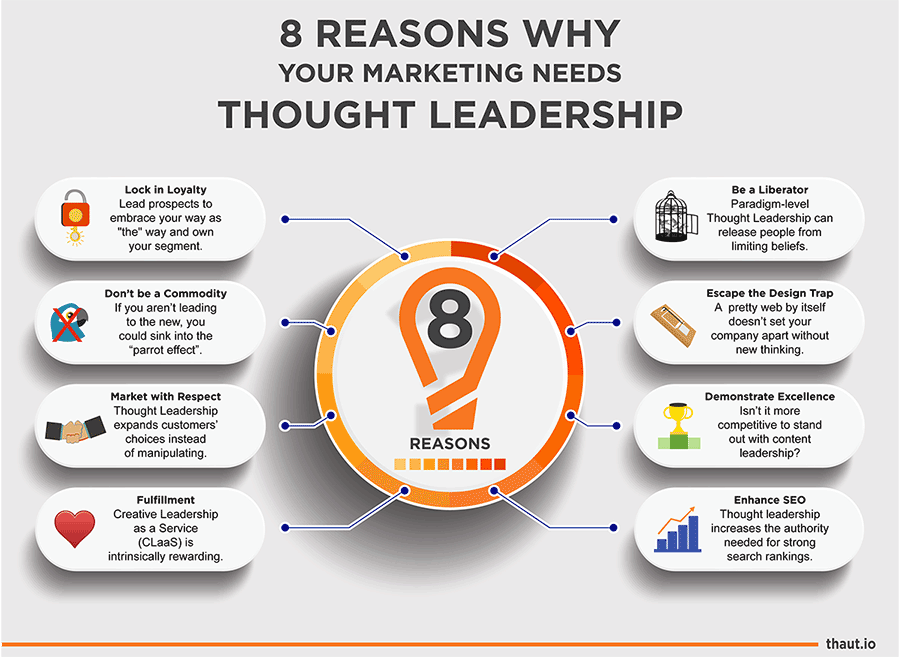 Source: Thout.io
Backlinko details a comparison post — a Product Showdown — with a template covering titles, introductions, product overview setups, and conclusions.
Check it out here.
6. The Pillar Template
Pillar posts are critical to SEO efforts. The content marketing world calls them pillars because they provide the foundation for a topic.
This post format provides a broad overview of a subject. It might serve as an introduction to a solution or service for buyers with little expertise.
You can break up the information into multiple assets that provide additional information on components of the pillar, linking to these assets within the pillar post. Furthermore, this overview post also becomes an internal link whenever you refer to the topic in other content pieces.
DigitalMarketer has a great pillar blog post template that they claim you can complete in only three steps. It provides plenty of examples and ideas along the way.
Explore the pillar post template here.
7. The Roundup Template
A roundup post is a compilation of answers to questions or advice on an issue, making it a very shareable content form. This post type is another way to demonstrate thought leadership and establish your brand's connection with its audience.
These posts require more prep work than others, as you need to round up experts who can provide answers and insight. Your experts could include sales leaders, product managers, or customer service representatives from within your own company.
The roundup template from Successful Blogging shares the steps you should take to create a winning roundup post. The template offers ways to organize the experts' information and write a winning post that's sure to get loads of attention, engagement, and shares.
Find the template here.
Keep Your Head in the Game With a Blog Post Template
Blogging is a long game for any organization using content marketing for growth. It's an ongoing process that you refine and improve along the way. The goal is to increase discovery and organic traffic, boost brand awareness, and show off your expertise. Each of these templates can inspire your team and keep content rolling.
Whether you incorporate one template or several, Divvy's central hub ensures your team can access it when needed. They can work from a copy of the template in our editor, ensuring it maintains the same structure and style during the writing process.
Our platform allows you to fold your template into your blogging content strategy easily. If you need to tweak your blog post template, simply make your changes in the system. Your team will have immediate access to the new version. Request a demo to see how we can help you simplify the blogging process.