The performance of your content is what moves the needle on ROI. The quality, relevancy, structure, format, distribution, and amplification all play a role in performance. With so many factors at play, it can be overwhelming to determine what's working and what's not. Those insights you can glean from content analytics help you optimize content performance.
So, it's a multi-step process for optimization and one that never really ends. In this guide, we'll discuss how to 1) analyze, 2) optimize, and 3) measure your content performance to see what worked.
What Content Characteristics Most Impact Performance?
Your enterprise content team produces many types of content. You're creating different formats, taking on various topics, and targeting specific personas. The attributes of high-performing content vary from company to company, but there are some universal benchmarks.
Semrush published a great resource on the anatomy of top-performing articles. In it, they analyzed 1.2 million articles and attempted to find links between elements and performance. They looked at length, headlines, structure, and visual content. The findings included:
Longer is better.
Structure that includes H2, H3, and H4s had higher traffic and engagement.
Lists per every 500 words were more successful.
Headlines between 10 to 13 words drove more traffic.
Posts with at least one image received more shares and backlinks.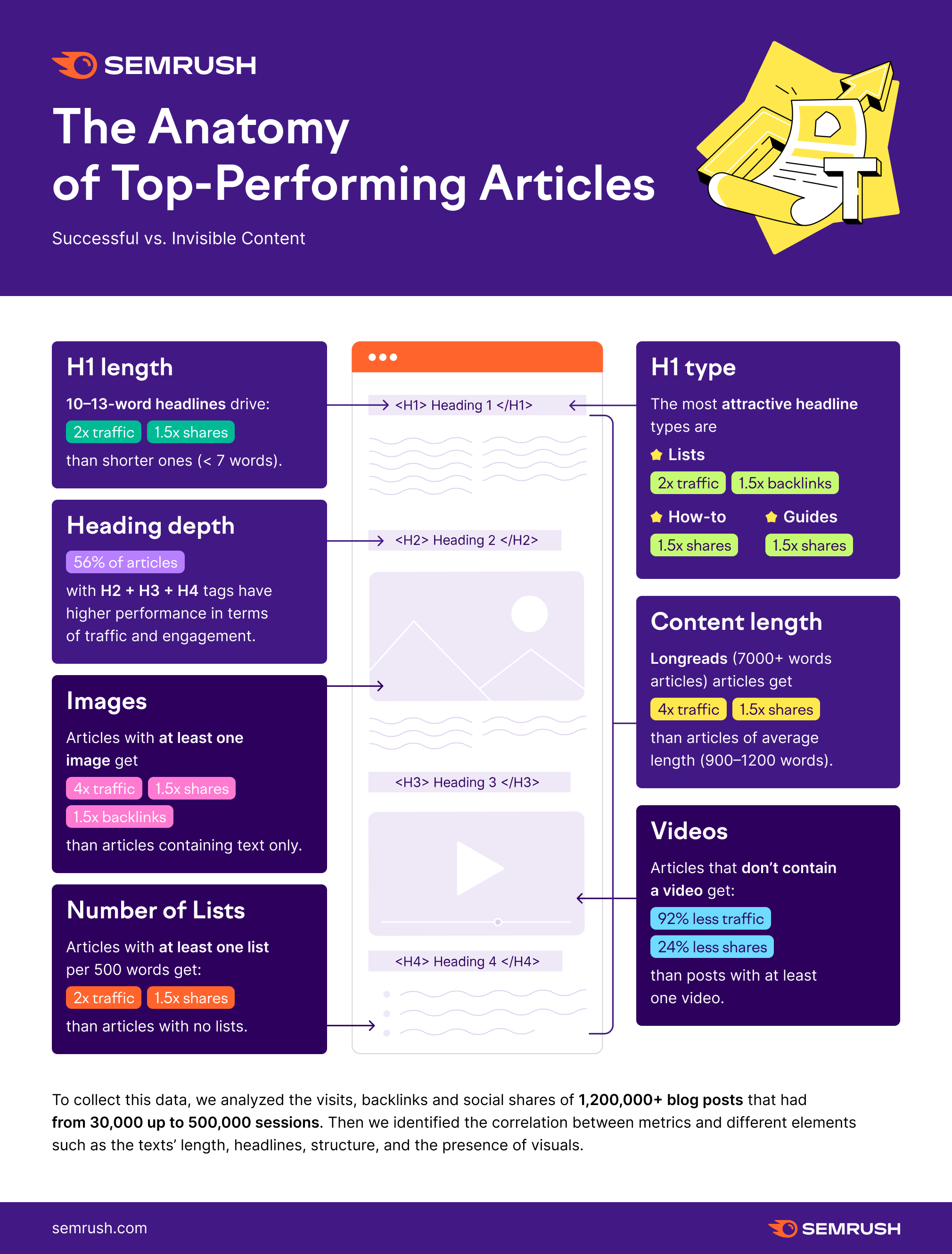 Image: Semrush
These findings can be a foundation, but you'll want to analyze several areas to discern what articles are your star performers.
What to Analyze to Influence Optimization
Your content analytics hold lots of valuable data points to help you achieve optimization.
You'll start this exercise by defining the metrics that demonstrate performance. Those can include:
Traffic to the page
Time on page
Conversion rate
Number of social shares
Engagement on social
Bounce rate
Keyword rankings
Then you'll begin to pick out the leaders of these areas within a timeframe. Depending on how dense your library is, you may want to go back a year, six months, or shorter.
Then you'll have a list of top performers within these analytics. Then it's time to see what they have in common.
What Do Your High-Performing Content Pieces Have in Common?
You can go back to the Semrush framework and create a report that sources this content metadata to include:
Format
Length
Header usage
List usage
Image or video usage
Topic
You should begin to see trends that help you accurately describe why that content performs well. These aren't absolutes, and sometimes you need some context.
The context that will likely inform your analysis the most is how you promoted the content. That could be organic or paid. Within organic, it may be on your website, posted on social media, or part of an email campaign.
For paid, you could be using social media advertising, SEM (search engine marketing), targeted display ads, or sponsored content opportunities.
How you distribute and amplify content directly relates to performance measures. So, that should be a caveat to your findings.
The Results of Analysis: What Will You Learn?
At the end of your analysis, you should be able to answer these questions:
What topic or topics resonate most with my audience?
What content formats drive engagement?
How long should written content be to make an impact?
What CTA (call to action) language delivers the most conversions?
What channels (organic or paid) are the best for traffic?
Do images or videos increase performance?
What keywords are you ranking high for that align with what your target audience is searching for and have substantial volume?
Now, you have a blueprint that will lead you to establish content optimization best practices for your team. You can use these findings to update old content that's not performing well and future work.
It's a good idea to present these findings with your team, no matter their role. It will affect all your stakeholders — writers, designers, strategists, etc.
These results should also inform the pillars of your content strategy and possibly result in some adjustments.
Time to Optimize Your Content
You can apply these practices to existing and new content.
Let ideal content length guide you but not restrict you: Some topics aren't suitable for longer content, so don't overreach here. Instead, look at existing content that could benefit from adding more.
Ensure you're hitting the right keywords: SEO isn't everything, but it certainly impacts performance. The key is to focus on keywords that accurately reflect your audience, solution, and industry and that have volume. Ranking well for a keyword with no volume doesn't equate to traffic.
Repurpose content into preferred formats: If you learn that infographics are top performers, look back to longer-form content to see if you can present it visually.
Get the structure right: Content that's scannable is often more readable. If you learn that blogs that include many subheads increase time on page, then use this as a template.
Develop content that's interesting always: You may have various content pillar topic umbrellas, but your analysis may tell you some of these don't matter. Retool your strategy here to focus efforts on topics that drive traffic and interest.
Understand how content design impacts performance: Based on findings, develop standards around your content's image or video usage. You can also go back to older posts and insert more visuals.
Focus on the channels that deliver: While you want to distribute content in any channel available, you'll want to emphasize those that bring traffic. Split this learning into paid and organic and place your attention on those that work best.
Optimize Content Performance to Link It to ROI
With this undertaking, you can incrementally and consistently optimize content performance. When you do this, it's easier to link it to ROI and revenue, something that's often challenging for enterprises. It's one process that your team should embrace and repeat.
To stay organized in this process and aggregate all your content data into one platform, you'll appreciate a content marketing platform like Divvy. See how it can make an impact for your team by starting a free trial.