Content marketing is vital to your marketing strategy and your brand's ability to attract and convert your target customers. When 55% of surveyed brands indicate that upping content production boosts their rankings, your team must also consistently push out high-quality, relevant content to compete and reach your audience.
Content marketing isn't a simple discipline. There are many facets to an effective strategy, central to which is planning, developing, and publishing your content through a variety of channels.
A content calendar is one of the best tools to keep it all organized. Let's explore what it is, what features it has, and why you should use one.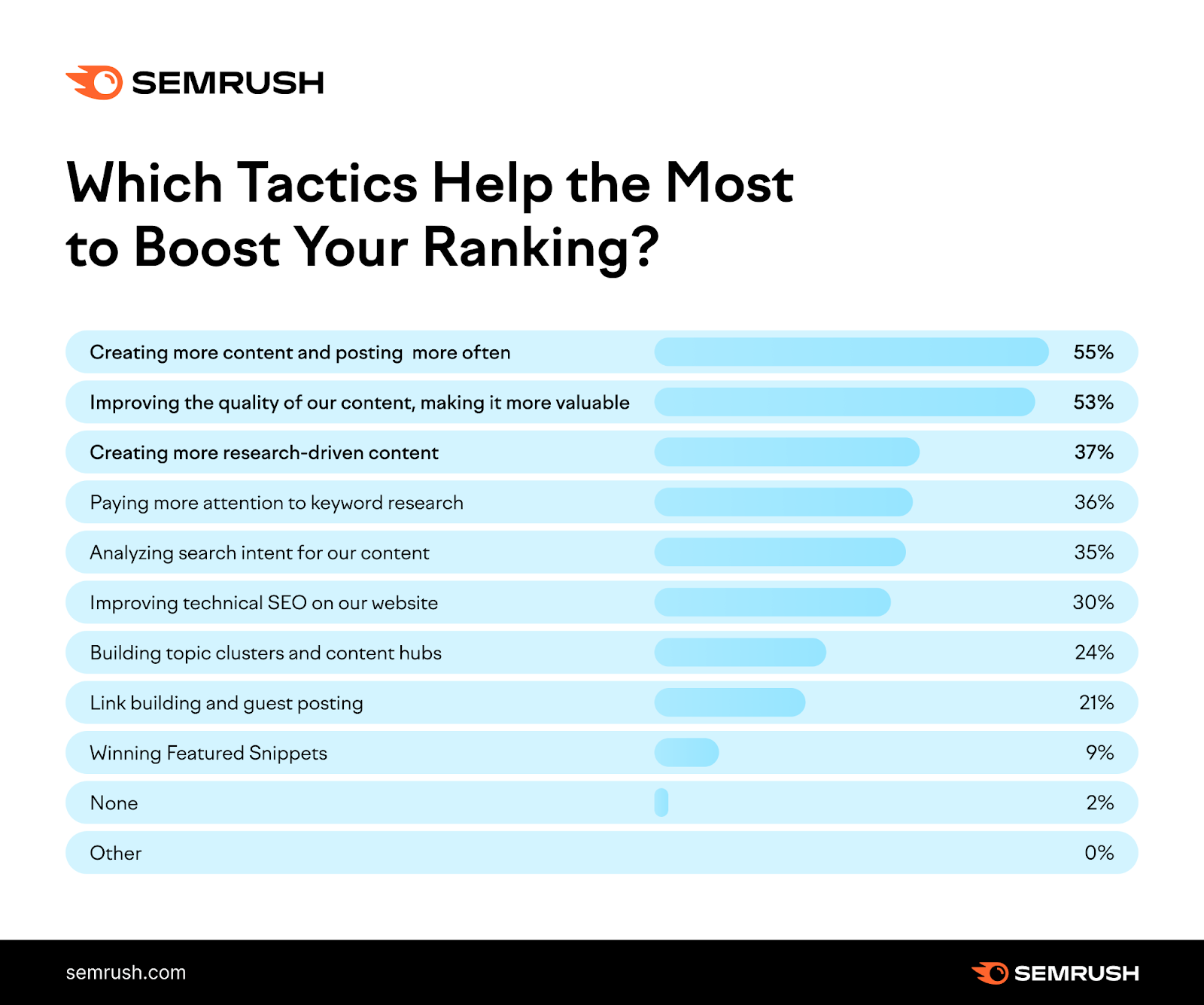 Image Source: SEMRush
What is a Content Calendar?
A calendar designed specifically for content marketing is the hub for all your team's marketing efforts. It is one of the most important tools in your toolkit, allowing you to organize your efforts visually and enabling clear communication of your campaign schedules and editorial plans.
This tool provides a transparent repository of what's due, what's done, and the status of every content project. It also clearly defines who is responsible for activities related to each asset.
If you have a business with large content operations or a distributed team, coordinating efforts across a mix of creative roles — from writers and editors to strategists and designers — is complicated. You need more than a spreadsheet; you need a content calendar.
Using a spreadsheet to organize your content plan is not sustainable or scalable. You need a dynamic calendar tool to fill the role of your content strategy and content plan framework.
A calendar that works for content production enables a holistic view of where your content is and where it's going. It transforms strategic tenets into actionable plans.
Why You Should Use a Calendar Made for Content Marketing
There are many advantages to using a calendar designed for content marketing. It could revolutionize the way you plan, create, and promote content. Using it may also significantly improve your operations and content quality, leading to increased leads and profits.
Check out these eight reasons why you should use a content calendar.
1. Keep Your Team Organized and Aligned
How do you currently source or organize ideas? Does your team scribble content plans down in notebooks or digital documents that must be uploaded and passed around to share with the team? Or do you have endless meetings related to the status of projects, texts, or email communications (that often get buried and forgotten)?
These inefficient processes keep you disorganized. A cloud-based calendar delivers a more holistic view of your content strategy. It helps you uncover content gaps, provides more oversight, and gives everyone access to real-time updates, making your team less likely to miss content deadlines!
2. Brainstorm Better
When your content is organized by topic and your team members have a clear view of what's in the works, it often gets them thinking about new ideas. Brainstorming activities to boost your content calendar are essential to delivering compelling, interesting content.
Bonus: These activities can actually occur within your content calendar. You can create an "idea" space allowing anyone involved in the content process to put ideas into one repository. The team can discuss these ideas and flesh them out into projects.
3. Maintain Consistency
Consistency is critical in content marketing. To keep your audience engaged, you need to deliver content that helps them learn and also entertains them.
If your posting is irregular and doesn't continually connect with readers, your audience won't likely grow. A cloud-based calendar holds you accountable to the publishing schedule you've set.
4. Sustain Your Audience's Interest
A content calendar allows you to see what topics you've already covered so you don't duplicate efforts while also helping you stick to your themes. You won't need to choose topics randomly anymore, making it easier to keep your audience engaged.
5. Stay Timely
With an organized and streamlined calendar, you can plot specific events, holidays, or times of year important to your audience and your business. This means you won't miss out on opportunities to leverage these events and get in front of your potential customers with timely content. You can ensure that you have content that speaks to what's happening in the world, building your credibility.
6. Simplify the Collaboration Process Across Teams
The most effective companies have alignment across teams, but content collaboration can be complicated for large teams. A content calendar makes it easier.
You can employ a resource that helps everyone stay on the same page by using a calendar everyone can access. Sales, marketing, product managers, and other stakeholders have clear visibility into content efforts improving company culture and relationships among teams.
7. Plan Social Media Marketing Better
Content and social media marketing are two parts of your content marketing strategy. Most social media marketers post content to their accounts three to four times weekly. A digital calendar enables your social media team to schedule what it will publish and where, allowing for more consistent posting.
Plus, the content automation features available on some content calendar platforms save time in scheduling. The increased efficiency helps you cultivate a better social media presence because you can focus more on interacting with followers instead of manually publishing posts.
8. Track Performance More Efficiently
Measuring the effectiveness of your content marketing efforts is essential. You need to understand what content is performing well and why so you can replicate the strategies that led to that performance.
Using a cloud-based platform that also enables reporting allows you to keep an eye on your production and performance metrics, uncovering insights to inform your future content plans and make it even more effective.
Having a content calendar is critical to your brand's content marketing success. It is no longer an optional tool but a foundational aspect of your content strategy. Now, you only need to find the right content calendar for your business.
Key Features of the DivvyHQ Content Calendar
The core components of a calendar designed for content marketing are:
Goal tracking
Content scheduling
Pillar/theme/topic menus
Deadline tracking and notifications
Production workflows
Team member assignments/accountability
Idea repository
Filtering and reporting mechanisms
Content collaboration capabilities
Sharing features
As you investigate what type of content calendar to use, you should look for functionality that covers these bases, with features that enable better communication and interaction. Creating a simple calendar on a Google spreadsheet just doesn't cut it.
Giving Customers the Planning Tools They Need
From the beginning of our journey in 2011 to today, DivvyHQ's success in becoming the world's best content planning solution has largely come from executing on customer feedback.
Our mission of "Simplifying the lives of content teams" steers our operations, but customers are always at the center of our product's functional offering and roadmap prioritization. Our calendar interface is a vital planning tool for content, marketing, and communications teams worldwide.
"There are a ton of new features and improvements packed into Divvy's 3.0 Calendar interface. We've kept all the filters and functions that DivvyHQ fans know and love and built upon those to help users easily manage the chaos of their busy content schedules."

Brody Dorland – Co-Founder
DivvyHQ
Improving Efficiency
Our core focus with the recent content calendar redesign was improving efficiency and workflow for users trying to juggle production for 20 to 30 pieces of content simultaneously across multiple departments, contributors, and channels. With that goal in mind, we added several improvements to our 3.0 interface:
Customizable, saved views to filter down to important campaigns and deadlines quickly
Priority filter to promptly see your highest-priority projects and tasks
Expand-and-collapse function for long-running campaigns to optimize screen real estate
Slide-in sidebars to see a quick preview of individual content items, tasks, or campaigns
Unscheduled content panel (formerly Parking Lot) for drag-and-drop of all unscheduled content and ideas
Reminders for non-content-centric events such as holidays, important meetings, and OOO reminders
Content calendar shortcuts to easily and quickly navigate to the most commonly used tasks and views
As with any interface release, we pay close attention to usage data and customer feedback. It's rewarding to get feedback such as this:
"DivvyHQ's new updated calendar view and functions bring a fresh new look and experience to our workflow process. I've been working in DivvyHQ going on three years now and am very pleased with the updates the platform has made in that time. I know it will only continue to get better as it grows."

Sam Craft – Digital Media Specialist
Texas A&M's Health Science Center
Organizing and Setting Up Your Content Calendar
When it comes to content, no two companies are alike. With that in mind, we built Divvy to scale and mold to almost any type and size of content team and to provide a foundation that allows those teams to produce any kind of content. A big part of that foundation is a single cloud-based calendar, with everything most small and medium-sized businesses need to manage all the content throughout their organizations.
Larger companies, however, may need multiple calendars to organize content by department or marketing vehicle. For example, a company may have a blog calendar, an email calendar, and an internal communications calendar. If you throw marketing agencies into the mix, they'll probably want a separate content calendar for each client or campaign.
If your Divvy plan provides multiple calendars and you are an account administrator or editor, log into DivvyHQ and click "Calendar Admin" in the top right. This page allows you to create your calendars, name them, specify a calendar color, and provide access to applicable contributors. When you're done, click "Save."
Calendar colors come into play when viewing your global calendar. Color-coded content items delineate which calendar each item belongs to. For example, with a purple blog calendar and a blue email calendar, you can quickly see what's on the schedule.
Adding Non-Content Events
Thanks to user feedback, we've learned how valuable our content calendar is for planning content initiatives. However, communications and marketing teams have other non-content-centric items that need visibility.
Common events in this camp include company and industry events (physical and virtual), holidays, and important company meetings. Here's a quick video walkthrough to get these types of events built into your calendar.
With your events added, you now have visual reminders of upcoming events and holidays to help your team proactively plan content and campaigns.
If you have questions about these or any other DivvyHQ features, feel free to contact us via the various support options provided here.
A Content Calendar Designed for Content Marketers
We designed the DivvyHQ calendar specifically to overcome the issues with existing calendar and content planning systems.
Simple — yet powerful — our calendar allows your content teams to organize their content and tasks intuitively, with multiple views and filter options so that you only see what you want to focus on.
If you're outgrowing your existing content calendar solution or are new to content marketing and want to maximize your efficiency from the start, request a demo to learn how DivvyHQ makes content marketing easier!