Did you know that next year, the GIF file format will be celebrating its 30th birthday? That's right folks… According to Wikipedia, the Graphics Interchange Format was originally created by CompuServe back in 1987. Since then, the format has certainly evolved, heated debates on it's pronunciation have ensued (even within the DivvyHQ office), and animated GIFs have become one of the most popular ways to deliver simple animation and video snippets to our socially-networked lives.
For the Record
When I first started out as a designer, I was a hard-line, hard "G" fanatic. I insisted that because GIF stands for "graphics interchange format" then the "G" should be pronounced like the "g" in "graphic." Ya know, like this guy:
Well, the inventor of the format says otherwise. Steve Wilhite insists the proper pronunciation is a soft g, like "jif." Who am I to argue with the person that invented the format?
But the real point is, if someone in your life wants to argue over pronunciations, they deserve what's coming to them:
The Power of the GIF
In a 2014 AdWeek.com article, Mike Folgner digs into the power of the GIF format:
"The power of a GIF lies in its ability to capture a moment or series of events. Often, things happen too quickly for people to properly digest the details with a video. The GIF can slow down a fantastic finish or a spectacular slam dunk and let you watch that moment repeatedly until it sets in."
Folgner goes on to discuss how easily animated GIFs can be created IF you have interesting moments to work from.
Today, usage of GIFs is commonplace for B2C marketers, but may be a stretch for the B2B world who worries too much about the negative consequences of actually showing some personality in their content (did I say that outloud?).
Much of the challenge of creating original animated GIFs falls within the realm of finding and capturing these "interesting moments" in a B2B environment, but B2B marketers really have no excuse on the technology side of things. You don't need fancy cameras or video equipment. Your smart phones or webcams will work just fine. Once captured, there are several, free online services (listed below) that make it pretty easy to create and add these animated gems into your content mix.
My 3 Favorite Resources for Sourcing and Creating Animated GIFs
1. Giphy
Integrations with YouTube and Vimeo let you easily create new animated GIFs from a wide range of source material.
One of the largest libraries of tagged, searchable GIFs for easy browsing. You can browse their library at Giphy.com or through their native apps on the App Store and on Google Play.
One-click sharing across Facebook, Twitter, Pinterest,Tumblr, Instagram and Reddit.
Embed codes using an iFrame, Javascript or HTML5.
Provides a direct link to the GIF (which generate previews in Facebook and Twitter), HTML5 video version or the option to download to your computer.
They also have an iOS keyboard.
---
2. Tenor
Tagged, searchable library of animated GIFs at Tenor.com
One-click sharing to iMessage, Facebook, Twitter, Reddit, Pinterest, Tumbler, and more.
Embed code using HTML and Javascript.
They also have an iOS Keyboard.
---
3. Make a GIF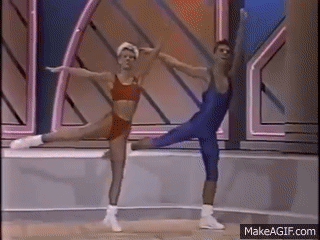 Integrations with YouTube and Vimeo let you easily create new animated GIFs from a wide range of source material.
Quickly create GIFs using your webcam.
Tagged, searchable library of GIFs at MakeAGIF.com. Note: their selection is less focused on pop culture and occasionally NSFW.
One-click sharing to Facebook, Twitter and Pinterest.
Embed code using HTML and Javascript.
---
Down the Rabbit Hole
If you happen to have some time to kill, I highly recommend you listen to this episode from Reply All, a podcast about the internet, that delves into the world of animated GIFs and the alternate universe of Animation Factory, which produced bizarre 3D animations in the '90s like this:
---
Get Giphy With It
Check out Giphy, Tenor, or MakeAGIF to add these engaging gems to your content. Feel free to post your favorite animated GIFs in the comments. And if anybody interrupts you to argue about pronunciation, respond according: