In content management, an important capability that many digital wizards use regularly is scheduling website content to post (or go live) sometime in the future. The reasons that people might need this are numerous, including such situations as:
Specifically timed campaign launches and news releases
Time zone differences
Your web guy/gal is going on vacation
Bulk importing/publishing of multiple pages/posts
One of the main goals of your content plan should be consistent blog publishing. However, publishing content is often a very manual process that requires trained people, and sometimes schedules get in the way. This can certainly interrupt workflows and throw a wrench in your upcoming campaign launch.
Luckily, most content management systems have an answer to this in the form of scheduling features that automate the future-publishing process. Today, we're keying in on WordPress. With WordPress owning such a large portion of market share in the blogging and CMS world, we thought it fitting to dig into the WordPress features, plugins and integrations needed to streamline your blog scheduling process.
With the right tools in place, you can save a lot of time and no longer worry about your web guy leaving you in a tough spot. You'll also ensure fresh content is always getting launched on your website in a timely fashion.
Let's start by outlining the process, benefits, and options of WordPress scheduled posts. These tips can help you do more but work less.
Why Is Scheduling Blog Posts Important?
Blogging is a journey, not a sprint. Consistency is vital in blogging! Companies that blog consistently see more traffic. Why does it matter? It's two-fold.
First, you want to be a regular source of information for your target audiences. Second, search engines reward you for this.
Using scheduling ensures your content calendar is accurate. Plus, it's preset. Disruptions happen in content publishing. Users may leave or be out of office, but your content will keep publishing as planned.
Simple Efficiencies
Simple efficiencies are clear wins that improve processes and reduce steps. Critical to the process is using content marketing software. The problem with many platforms is copying, pasting, and reformatting.
Such tasks impact productivity. Finding the right technology removes this burden.
Without an integration between your content marketing platform and your website's CMS, the two systems can't talk to each other. Even with an integration, the two systems may not be completely cohesive. Categories may not carry over. Attachments may get lost. Most of the time, the process has holes. This makes automating WordPress scheduled posts harder.
When your systems do have a good connection, your time savings may be 10-20 minutes per post. Over time, that adds up. Your team can focus more on high-level activities while posting becomes more efficient.
Synchronizing Elements
When considering a platform to integrate with WordPress, explore how it syncs.
Is there a perfect pairing? Will some post-editing always be necessary? Yes, it's part of the process.
These elements are the most important to get synced between systems:
Post title
Body copy
Images
Excerpts
Categories
Tags
Authors
Not all these may be essential for you. But it's a good baseline. But what about if you make changes?
Typically, if you make a change in your content hub, it won't carry over. Look for a solution that addresses this. Syncing will save you time in the end. This is especially true when you update evergreen content.
The DivvyHQ WordPress plugin offers syncing capabilities. With a few clicks, you can sync content from your DivvyHQ platform to your WordPress site. Any changes you make to your content in WordPress in the future will sync back to Divvy. This improves consistency. It also saves time.
Removing Complexity
Content marketing processes don't have to be complex. You should be able to use technology to simplify and streamline. For any business with high-volume publishing, you don't need the complications. You need quick solutions.
Shorten the time from draft to live in blogging. Transfer content from your content marketing system to WordPress. When you can package it up and send it to WordPress, it immediately ensures efficiency.
WordPress Scheduling and Third-Party Content Tools
The schedule function in WordPress is a useful tool. Even when using a content marketing platform to send content, a review is still necessary. You can do a final look at the content on WordPress before publishing.
Content marketing platform integrations with WordPress add value but aren't perfect. Every WordPress site is unique and you may have very specific data requirements or custom fields to account for. No integration will eliminate the need to go into WordPress.
Some things you'll need to review before scheduling include:
Assigning the primary category if you've specified multiple categories
Choosing a template if you have multiple themes or layouts for your blog posts
Plugging in meta information and keyword using Yoast or another comparable plugin for SEO
Populating any custom fields
When it comes to WordPress scheduled posts, you'll likely need to initiate the launch of your content within WordPress. Integrations can certainly speed up the process, so you'll still achieve efficiency.
Add a Plugin to Schedule with Ease
We've talked about efficiencies in getting the content into WordPress. What about the act of scheduling? Here are some options for WordPress scheduled posts.
Publish to Schedule
Instead of you specifying the date and time your post will publish, this plugin allows you to configure the days of the week you want to publish, the number of posts to publish in a given day, or the time intervals for launching posts.
Check it out here or you can see it in action below.
Auto Post Scheduler
Much like the previous plugin, Auto Post Scheduler provides a wealth of features for automating the scheduling of posts. This plugin is especially useful when importing a big batch of posts, which can then be auto-scheduled based on your frequency settings.
Check it out here.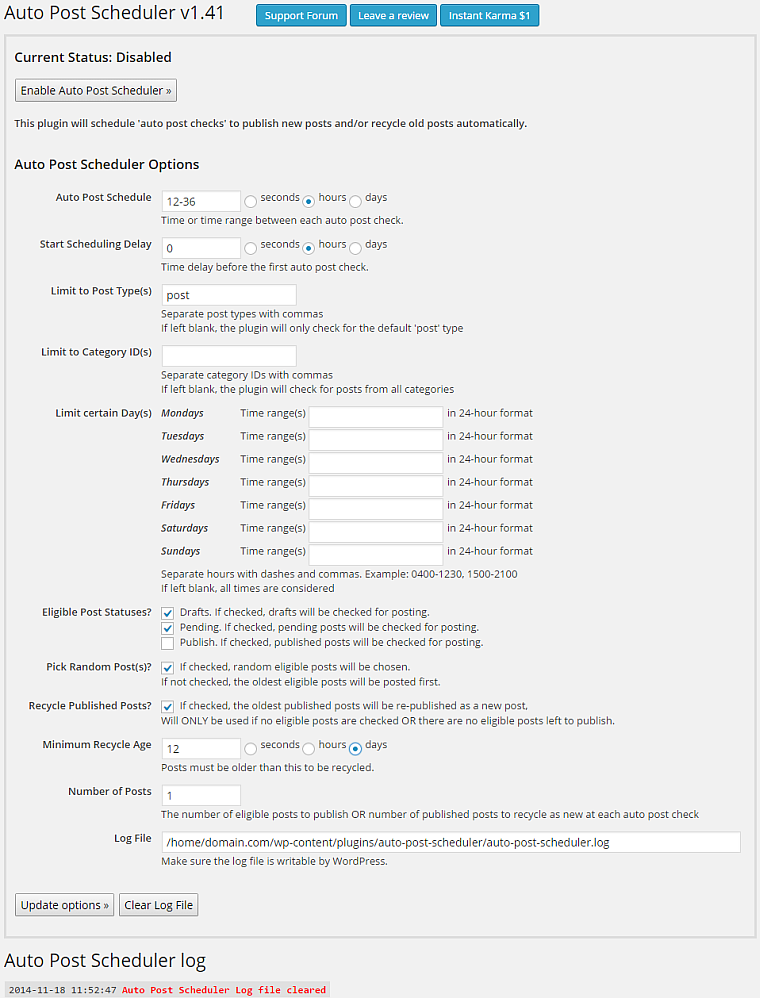 Source: WordPress
What About WordPress Automation Plugins?
Many content automation plugins exist for WordPress. Some fall within the category of "autoblogging" (auto-posting content from other sites via RSS feeds) and others automate post creation and scheduling for very specific use cases (ex: Etsyomatic – turn your blog into an Etsy affiliate site).
These are often only used in certain situations, but depending on your business and content strategy, perhaps they may fit the bill.
What's the Ideal Way to Simplify Content Publishing?
We've covered many options and their benefits. There's no true turnkey approach. By combining several options, you can save time with automation. The equation might look something like this:
Content Marketing Platform + WordPress + Scheduling Plugin
The content marketing platform serves the purpose of helping you efficiently create the content and transition it seamlessly over to WordPress. Then you can use a scheduling plugin to schedule at scale.
DivvyHQ and WordPress: A Winning Team
DivvyHQ offers WordPress users flexibility. You'll be able to enjoy the features of both systems. That's a powerful advantage. It allows you to focus more on developing content instead of admin tasks. DivvyHQ is the perfect platform to use in concert with WordPress. Find out why so many content teams trust it!
Learn more about the synergies by trying out DivvyHQ for free. Sign up for a free trial now.