If you're doing your job in content marketing, you're probably producing a decent amount of content every year. And much of that content will lose its relevance over time. So should you remove this outdated content? If not, what should you do with it?
Here's our guide to organizing and optimizing your content for maximum benefit in terms of SEO, user experience, engagement, and conversions.
Why Doing Nothing with Old Content Is Not the Best Strategy
So, what's wrong with leaving your old content as it is?
Well, there are certainly some cases when you can leave your content as it is, even if you published it several years ago.
If it's so-called evergreen content – in other words, the information doesn't date – then there's no need to remove it just because it's old.
If your content is still useful, relevant, and valid, there's no benefit in removing it. And, in fact, this could even hurt your SEO and reduce the quality of the user experience if they're directed to a certain article on your site in Google only to find it no longer exists.
But there are many cases where you might want to update or remove old content. These include:
You have information about products that have been discontinued or are no longer available and will not be coming back.
You have outdated information that is no longer correct – for example, a guide to using an old version of software.
You're linking to or citing out-of-date information – for example, government regulations from several years ago that have now changed.
Your content includes outdated information about your business, such as an old address, contact information for an employee who has moved on, or you've rebranded.
Seasonal information that is no longer useful or relevant, such as a list of Christmas markets from several years ago
Limited time content such as job or real estate listings
Old content that is off-brand or badly written
So what should you do with this out-of-date content? There are a few different strategies you can take, and you should choose the course of action that is most suitable for each piece of content.
1. Update the Content
In many cases, simply updating the content to add new information or to remove outdated links and references will be sufficient to ensure it is still useful for the user.
When you do this, make sure to add a note with the date the content was updated. This indicates to both Google and the reader that it has been updated recently. There's nothing more off-putting for a searcher looking for up-to-date information than seeing a post date from several years ago in the search engine results.
Sometimes you might want to update content not because the information is out of date but rather because you want to keep up with the latest SEO best practices.
For example, you might want to restructure or add to your content to get it to appear as a rich snippet in the Google search results.
If you have content on your site that is several years old, it may have been written in accordance with outdated SEO advice, such as including an unnatural number of mentions of a certain keyword (keyword stuffing). If this is the case, rewriting the content will not only make it more readable but may also well have a positive effect on your SEO.
2. Remove the Content and Redirect the Link
For information that can't be updated such as expired product listings, the best option is to redirect the expired content to another page on your site.
This is the best option in terms of SEO for your site as it ensures you won't be losing any search traffic. Search engines will eventually remove pages that throw a 404 error, and users are unlikely to stick around and search for more information on your site either.
If there are a lot of links pointing to a page on your site, it's probably not a good idea to delete it completely, even if the information is very out of date. Removing the page means you'll lose the power of these links, and this could negatively affect your search engine rankings.
However, if you use a 301 permanent redirect, you won't lose any "link juice." You'll also have the chance of keeping search engine traffic on your site for longer by directing them to more up-to-date information and products or other useful content on your site.
3. Repurpose the Content
If the content is too out of date for a quick update and requires a major overhaul, your best bet is probably to take it, rewrite it completely, and use a 301 redirect to send search traffic to the new post.
In some cases, you might want to both update and repurpose the content. For example, you could update a blog post from several years ago to make sure the information is still relevant and turn it into a video or podcast. This means the post is still working for you, attracting search engine traffic. And, you can still use it to produce even more valuable content for audience members who may have missed it the first time around.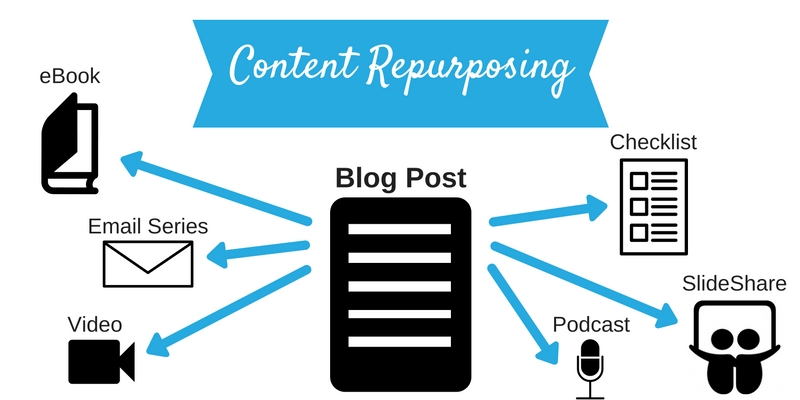 Keeping Track of Your Content
Before you can put in place a strategy for dealing with your old content, you need to have some kind of system for keeping track of all your content and knowing when it's time to review, update, or remove it.
This is where using a content marketing platform like DivvyHQ really can help make your life easier.
The more content you have, the trickier your job is to manage it. DivvyHQ has a simple content management platform that not only streamlines your content production but also systematizes and automates your content governance.
This ensures you can never forget about any of your content, and you'll get timely reminders about reviewing and updating to ensure all your content is working for you both now and in the future.
To find out more about how DivvyHQ works or to take it for a spin, get in touch with our team and try it for free.